The website is currently undergoing maintenance. Sorry for the inconvenience.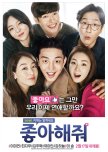 I just loved it. So. Much.
I came across the trailer by chance on youtube and oh man, thanks to the algorithm who does the recommandations.
This movie has Love Actually vibes and as someone who absolutely loved and watch this movie almost every Christmas, I was curious to see this movie.
And it's awesome.
You'll find that it's predictable. But who cares, it's a feel good movie, with happy endings, and the ride is so nice and fluffy that you won't even mind. You'll just sit comfortably in your pyjamas, sip your tea while just enjoying a very nice and happy movie.
At least, it made me happy. It made me feel good. I smiled so much, and laughed, and even cried at the happy endings.
I just loved it (loved so much. I know i repeat myself. But i loved it. Did i say how much i loved it?).
The acting is great. It isn't over-acted (which is a nice change, compared to the dramas). Every actor pulled off their role perfectly.
The ost. Oh man. So in tune with the movie. The ambiance was absolutely gorgeous, from the music to the setting, to the colours, everything.
To be honest, I just finished it and I already want to rewatch it.
Was this review helpful to you?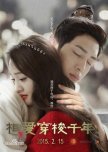 Hiya everyone!
Today I will be presenting to you the first ever drama I watched… Love Weaves Through A Millennium!
Based of the popular Korean drama Queen In Hyun's Man, this Chinese version tells the same story of a love that happens between two people from different eras. Imperial scholar official, Gong Ming (Jing Bo Ran) accidently time-travels two thousand years into the present where he meets actress Lin Xiang Xiang (Zheng Shuang). Their story is one of love, fate, and commitment.
It is also know as Love Across Time or Love Through Thousands of Years. It came out in February 2015 on Huhan TV and has twenty-four episodes.
I really, really loved this drama. I started watching it because a friend kept telling me about dramas and that I should watch them because they are amazing. She watches more Korean dramas but I asked her if she knew any Chinese one so that I could practice the little Chinese I know. She told me about Love Weaves Through A Millennium and here I was, binge-watching it…
There were some inconsistencies in my opinion, like some characters from 16 before JC wore strands of hair… Which I suppose did not exist at the time. But hey, drama.
Also, unlike the Korean version, they added a staggering number of complications that are not in Queen In Hyun's Man – the Korean version only had sixteen episodes where LWTAM had twenty-four. I let you imagine everything you can do with eight times (at least) forty-five minutes extra. Hence the mountain of complications.
I really liked the actors playing the main leads and I loved their characters. Gong Ming is just perfect by my book… I like his spirit, how clever he is and how cute he is with Lin Xiang Xiang. He knows how to reassure her and that is very cute and I think every girl dream of a boy like that who just takes you as you are and knows how to deal with your insecurities so that you feel safe. He is also so funny when he tries to adjust to modern time!
Lin Xiang Xiang is absolutely adorable! I like the way the actress played her because we see how playful, childish (not in a bad way) she is, but also, she loves Gong Ming unconditionally and she shows it to him.
I loved every scene they had together. Every single one of them.
About the end, I hated it. It was too steep in my opinion and I feel like there was not any, actually… I cannot go any further in details without spoiling the drama so I will just let you make up your own mind.
I will just add that a specific scene in episode fifteen broke my heart but it also melted and fainted. At the same time. And while writing this article, I watched it again – just to make sure it was the right episode – and I cried again… Their acting in that specific scene is just… amazing. Powerful.
I fell down the drama hole.
Did you guys watch it? Do you watch Dramas? Let me know!
Was this review helpful to you?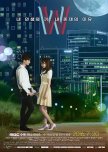 W
3 people found this review helpful
What to say.
At first, I didn't know what it was about. I am fairly new to dramas (started in January) and when my friend (who's a die hard fan for four years) told me it was something they never did before, I honestly had no clue what to expect.
Well. I must say I liked the ride. As a writer myself and someone inventing characters, this was sooooo interesting and also scary because I couldn't stop thinking what my characters would do to me if I ever was in a similar situation xD (but that's just my weird brain)
The music was good. I gave it a ten because it was the right emotion, the right note, the right instrument at the right time... But i didn't like it much. So yeah, a ten because I am trying to give an objective rating.
About the acting... The main male lead is good. But the main female lead... COME ON! I KNOW YOU CAN DO BETTER DAMMIT. I felt like she was over-acting MOST OF THE SCENES. Even sad ones, which ended with me just watching at the show without feeling anything. And when i don't feel anything... I am not interested. But i sticked to it.
Why?
Because of the plot. It was boring and dragging around the middle of it, but it was so original and interesting for me (as a writer) that I sticked to it nevertheless. It took me a loooooooong time to keep watching. I couldn't get past the 8th episode. But when i finally did, it started to be interesting again and maaaaan it was good. I was just SO SICK of all the plot twist. That's just a bad idea to put SO MANY, because then, the viewer just expect something and cannot enjoy the show fully. This guy is being tortured? Surely, he'll get saved by a magic wand called fourth wall. (Ugh.)
I don't know if i would watch it again honestly. I don't think because too many plot twists and the female lead opening her eyes waaaaay too much.
Was this review helpful to you?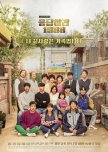 Reply 1988 is the first family drama I watched. And I loved it.
At first, I tried watching the first episodes without getting to the end. It was a bit annoying and I was taken aback by the goat sound and the concept. But then I tried again and forced myself to watch until the end. And I do not regret giving it a second try!
This show is absolutely amazing. During the whole series, we are trying to figure out who, out of the friends, is going to marry Deokson (the female lead).
But more importantly, we see the lives of four families living in the same neighbourhood, with their ups and downs, their daily problems and what it was like living in the 80s (maaaan, this show made me regret not being a teenager in those years).
I think I cried at almost every episode. Now, don't get me wrong, there is not a death at every episode, only… life. Moments between family's members, their struggle, their worries, their pain, their tears, their joys, their love for each other, everything that a family goes through.
Being the sibling left aside? Check.
Growing after losing a parent? Check.
Living the first love? Check.
Being scared of confessing? Check.
Rebelling against parental authority? Check.
Struggling with saying the words "I love you" to your parents? Check.
And so many more.
I related to those characters a lot (I feel like I am writing that in 90% of my reviews… but it's true).
Deokson is such a dummy, I related to that too much… *small laughs*
I absolutely loved their friendship! I wish I had one like that when I was a teenager. I was so sad at the end when Deokson talks about the youth they cannot go back to and it just struck a cord in me that I started sobbing like the world had ended (and writing those words bring back tears). Damn, I love that drama.
Her dad just got on my nerves 70% of the show. I don't know why, but I got angry at him a lot. I just wanted to slap him so many times.
The chemistry between the actors was absolutely amazing! First, between the group of friends, then between the parents. I especially liked Sun Woo's mum and Taek's dad relationship.
At first, I didn't like Jung Hwan but then… I did. A lot. Big time. I was wishing he was the husband. So many times I wanted to slap him too for being sooooo careful, ugh, idiot.
Sun Woo was my favourite. From the start I liked him a lot. He is just adorable with his sister and mother and he is just the perfect boyfriend material. Like really, you can't find someone more boyfriend material than that guy.
Taek… Well, how can I say that without getting beaten by his fans? Until episode 19, I had a LOT of difficulties with him. I don't know if it is the acting or how he was written, but I just could not get attached to him. But I made my peace with him in episode 20 and I was finally happy with what happened. Even though I had a LOT of difficulties accepting it.
I felt the stories were so true and very beautifully written. It is hard to write about daily life without falling into the clichés, but Reply 1988's writers did an absolute magnificent job. When I had about twenty minutes left of the last episode, it took me two days to sit in front of my laptop and finish it because I just did not want this show to end. I was not ready to say goodbye at all.
This is a show I will recommend to everyone forever and ever and that I will happily and gladly rewatch. With a bag of tissues by my side.
Was this review helpful to you?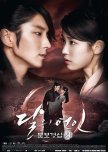 Okay guys, let's do this.
First of all : THIS IS A REVIEW WITH SPOILERS.
I repeat, there are spoilers in here. I will try to put them at the very end, but i cannot guarantee it.
Now, let's start.
What. The. Flick. I don't know what to think honestly. It's a good thing I absolutely LOVED the last scene because otherwise, I would have given a much lesser grade.
The music. Let's start by that because that is the easiest topic to write about without spoilers.
THE MUSIC IS GOLD. I am desperatly trying to find the soundtrack because I am loving this so much. Every single track is perfect, put right at the right moment, with the right tone. It's just... Amazing. And I am talking about the songs AND the instrumental tracks (especially those).
About the acting, nothing to say. IU is good, reallyyyyy good. They all are. I only had real trouble with Wang Eun [10th Prince] (played by Byun Baek Hyun) because I though he wasn't good. Too much of a brat. But then, his character was a brat, so I guess he actually did good... I must see him in something else to make up my mind about him.
Otherwise, they acted so well I just LOVED hating some characters (you know who I am talking about if you've seen the show).
Now... The plot. Oh dear. So much to say. Yet, I don't know if I will think of everything. Let's put numbers to help you (and me, let's be frank) find your way. Now, here start the spoilers. I REPEAT, SPOILERS COMING.
SPOILERS
FOLLOWING
Okay, you've been warned.
1. TOO. MANY. PLOT. TWISTS.
Yes. TOO MANY PLOT TWISTS. Now, don't get me wrong, I love plot twists. But it is like cinnamon : i could put it everywhere, in every meal or drink. But i don't. Because too much is just... too much. And, honestly, everything that happens to Soo, half of it wasnt even believable. Because, again, key word : TOO MUCH.
When will they learn...
2. TOO. MANY. PLOT. HOLES.
There are a shit loads of things I didn't understand. Let's put that on the fact that I am new to dramas and that it's the first time I am watching an historical drama. (But then, a friend who watches since forever didn't understand everything so... yeah. I will let you decide).
3. All the Princes loving Soo ? REALLY?!
That. Just.... No. Nope. Stop. Please, writers stop with the love triangle, love pentagone and all the other ways of having many people loving the same person. Just, stop. It is boring, uninteresting, and already seen EVERYWHERE. And, most of all, NOT BELIEVABLE. Even if you show it to us in almost every episode. Still. Not. Believable. For. A. Second.
4. Scenery : GOLD
The scenery was amazing. I loved seeing how true to details the team was. It was such a pleasure watching a drama in these gorgeous sets. Nothing more to add, just an eyegasm.
5. Directing, or when my grandma could have done better.
And the editing too. Because, that did a lot in me not understing what was happening.
An example? I am glad you fucking asked. Not putting a little phrase saying there was an elipse. Am i supposed to be a genius and read your mind, little writer? Yes? oh, my bad. (hear the irony)
Also, why was there some scene without subtitles? Were there two editing of the same episodes ? I was SO CONFUSED. Only confusion. Confusion everywhere.
6. Suffering for suffering ? REALLY?!
Soo had so much suffering it is ridiculus. No human being had so many in his life. And all the deaths at the end didn't make sense at all. There wasn't any real context for either the suffering of Soo or other characters or the deaths we had at the end. (GoT korean much?)
7. the end. THE HECK WAS THAT
Now, I LOVED THE ENDING.
I thought she would come back and I was only praying it wouldn't have been a dream. And it wasn't so good job writers.
I wish she would have seen So but hey, they left it open for a second season didn't they?
I loved that she remembered she was Soo. I was completely dissappointed by the end and then... She wakes up in 2016. And I WAS SOLD AGAIN. This is what made me give a higher grade.
8. You better give me a second season
They cannot leave it like that. I need them to reunite. Especially when So said "I will find you."
You better stick to your promise, 4th Prince.
Otherwole... There was a lot of episode where I was bored. I feel like 16 episodes would have been better, because i felt the writers were dragging the story. But i still loved it because in the last scene I was finally reunited with the reason why I started watching this drama : timetravelling.
I really, really hope there's gonna be a second season.
Was this review helpful to you?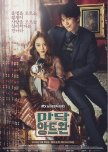 I really enjoyed it. I haven't watch a lot of dramas yet, I only started four months before Madame Antoine aired, but this one is my favourite of the few I've seen.
Where to start?
The first thing appealing to me was the male lead being a psychologist. I study that discipline and I admit it had a weight in my making the decision to watch it. But don't expect it to be accurate: they say it at the beginning of every episode that the cases and therapies seen in the drama are fictional. Anyway, after the first episode, the psychological accuracy was the least of my worries.
I would like to give a special recognition to the person who casted the actors. They were all absolutely brilliant in their character, each one portraying them with such simplicity and truth. I honestly never felt like they were acting.
The dynamic between Choi Soo-Hyun and Ko Hye-Rim was just on point. I couldn't believe Sung Joon is actually twenty-five… He looked like the thirty years old character he was playing and I was shocked when I learned his real age. This only proves how good of an actor he is. I had a massive crush on him; the texts I send to a friend prove that… I completely lost it.
I know a lot of people dislike Choi Soo-Hyun because they only saw a jerk. Unfortunately for my sanity, I could argument every action he did. When I say every, I really mean every single one (I will stop here, before spoiling anything).
The same applied to Ko Hye-Rim. For her as well I could defend everything she did. Why she kept trusting him, why she reacted that way around episode fourteen and what happened in the finale. Also, she is a strong female character! She isn't naïve like the typical female lead we see in kdramas. She is outspoken, she knows who she is and what she wants and she doesn't let people mess with her.
About the second leads, they were so cute, I wanted to hug them. And one aspect that made me love this drama even more is that I didn't have any second lead syndrome! Not once! Which is a massive plus, because I was completely focused on the OTP and not suffering knowing that the second lead will never get the girl. I loved Ko Hye-Rim's sister and Choi Soo-Hyun's brother. For both of them, I could also explain and defend their actions… This drama spoke to me to such a level, it was scary sometimes. I could relate to almost every character, their lives, their scars… especially the two leads.
Sixteen episodes were the perfect number. If there had been more, I am afraid it would have been way too long and become boring. Thankfully, they stuck to sixteen and I wasn't bored for a second!
There is only one thing that I found disappointing: the last two minutes of the drama. They did it too abruptly in my opinion. But it looks like this is a drama-thing, so I better get used to it, right?
The idea of putting the bloopers at the end of the last episode was brilliant! It ends on a light, funny note until the very end.
If you are looking for something light and romantic without being cheesy and seen-it-all-already, Madame Antoine is the winner!
Was this review helpful to you?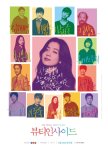 I was going from a video to another on youtube (who doesn't) without any purpose (who doesnt?) and came across the trailer of that movie. As I was slowly going into the drama world and because the title was appealing, i clicked and watched it. And man, this looked good. So I watched the movie.
And I really liked it. It is a romantic movie with some deep moments. I liked the struggle of the female lead who doesn't know how to react when facing this weird situation. I like their little things they kept between them like how they would recognise each other.
I was a bit frustrated that we don't discover why he is like that. Well, we do in a certain way but they could have given a fuller explanation but after all, the movie wasn't about that, the movie is about the love story. And that is completely fine by me because I started the movie wanted to know what is going to happen to that poor man whose face changes every morning and not interesting in why he is like that. More like how does he live like that. How are you supposed to live like that ? Are you doomed to stay single and alone you're entire life ?
Well, watch to know the answer.
But frankly, this is a very cute movie to watch on a rainy day. The actress is absolutely great.
Was this review helpful to you?