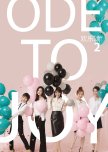 Story:
The second season of Ode to Joy sees the characters more developed and set in their life. Some characters return with an existing relationship, while others were ended or didn't have one. Family plays a more prominent role as the relationships with the girls and their partners become more serious.
Andie comes into Season 2 from a fresh breakup. She gets over her previous boyfriend and begins dating Bao Yi Fan who had a minor appearance in Season 1. Season 2 mainly revolves around her relationship with him. My biggest gripe was the the plot between or involving family. It took the characters to a point where I no longer felt immersed in their world. The best takeaway from Andie's storyline comes from her development as a character. By the end of season 2, you get the sense that she's developed into this wonderful well rounded woman.
Ying Ying starts off with the continuation of her budding romance with Ying Qin. Things seem to go really well until it hit their down point. There was nothing particularly wrong with the plot however the issue was in character development. Ying Ying does a complete 180 and regresses to her season 1 incarnation. The final result of her journey that puts that 180 into perspective is fine, but as a viewer, it wasn't pleasant to see the same mistakes from last season repeated.
Unlike the rest of the girls, Guan Guan did not have a boyfriend but she was secretly pining for one of the character's existing boyfriends. One of the unique and high points about Guan Guan's storyline is her development as a character. She begins as a naive young career woman who doesn't know anything about relationships to realizing the complexities of life. Her eventual romance with Xie Tong was the high point out of all the girl's relationships.
Qu Xiao Xiao, the character that you love to hate ends up as the character you can't help but love. Her relationship with Zhao Qi Ping goes through it's ups and downs but further solidifies them. The story with her family takes a darker tone however it was solidly executed. It felt realistic but fictional. Overall, I think that Qu Xiao Xiao's storyline was one of the highest in quality.
Finally we get to Fan Sheng Mei. Sheng Mei continues her relationship from the previous season with Wang Bai Chuan. Apart from all the other girls, Sheng Mei takes the most traditional and practical approach. Sheng Mei is put under considerable pressure & as a result, she places her pressure onto others. The resolution of events brings a realization of her character flaws but also brings forth her inner strength.
Acting:
The breakout star this season was Jiang Xin as Fan Sheng Mei. She played a multi-faceted role where she had to present a strong confident front for the ladies of the 22nd floor while on the inside, she was a very vulnerable person. Jiang Xin did a wonderful job showing so many sides to Sheng Mei and making me immersed in her world. I also loved that her character broke the 4th wall a few times which added to the realism.
Wang Zi Wen as Qu Xiao Xiao brings a notable performance. She takes her character from quirky, fun, to being condescending, and ultimately bring her to a point where Xiao Xiao is level with the other characters.
I did not particularly like Yang Zi's performance as Qiu Ying Ying but I don't blame that on her, the actress, rather, the material she had to work with wasn't good. Qiao Xin did an wonderful job as Guan Guan. She is just so lovable from start to finish. In my opinion, Liu Tao was kind of held back by the material but it doesn't detract from her as an actress. I liked that we saw the spontaneous & lighthearted side towards the end.
One more performance I want to take note of is Yang Shuo as Bao Yi Fan. In season 1, he was this suave, charismatic guy and his acting reflects that. In season 2, as we got to see more situations unravel, the less range that we didn't get in his acting.
Music:
As I watch more and more drama, I notice that lots of tracks are reused. Ode to Joy Season 2 is no exception. I liked the music, but I just didn't like the replays. Most notably with the vocal tracks. The incidental music was fine and I think it suited the scenarios it played in.
Conclusion:
Ode to Joy season 2 is a rollercoaster ride filled with ups and downs. The ladies are as lovable as ever. Their journeys take me as a viewer into the world of 5 ladies living in Shanghai. I think that there was a perceptible drop in quality compared to Season 1 but it's nothing that cannot be fixed if there is a season 3. If they left it as it is, I'd be happy with it.
Was this review helpful to you?