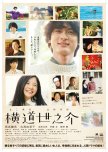 This is the first time I write a review and I felt like doing it because there is a lot of arguments about the movie being boring and other people like me loving it.
I think the movie has a beautiful story, the relationships between the different characters are charming and the time jumps help you undertand what is going on.
I really enjoyed it, I feel like a movie is not enough to cover all the story that we are missing... maby a different ending... but you know, it is a nice ending from my point of view, maby just not the ones you are used to.
Definetly will be watching it again in a couple of years.
Was this review helpful to you?