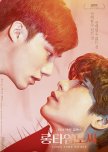 Surprisingly, I was not that excited nor intrigued when I watched this drama. I found out why, as soon as I completed the last episode. It turns out that it is because every detail that was written in this drama was those of a typical BL
'crime' fanfiction. Therefore, I was not surprised at every twist that the story revealed, and if you have not watched this drama yet, you probably can guess the whole plot already.
The only aspect of this drama that I like is the fact that it shows that people from the LGBT community can live a happy life, or at least, have a happy ending. The reason why I am happy about this is that currently in the Asian movie and drama schemes, most of the relationships built between two queer characters do not end up well. Most of them are tragic. The ending scene teared me up, it was more than beautiful.
The actor who played Chisoo did a very great job. He impressed me as there was a moment when the character cried and I cried as well because I could feel how painful it was for the character just by looking at the character's eyes. However, the acting of other characters sometimes broke the mood. The villain's acting to me was the worst. Although his character was probably written to be someone who is able to brainwash people's mind, the actor did not do well to the point that I was convinced with his words. Instead, I cringed sometimes whenever he spoke.
There is one line that I love from the drama. Which is when the main character, Chisoo, told the person who dehumanise him for his sexuality and life choices that "I am a human too." It was a heartbreaking and a happy moment at the same time. This drama worth the watch.
Was this review helpful to you?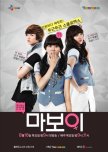 Ma Boy
0 people found this review helpful
The story is interesting, a very typical cross-dressing plotline that you can find in Wattpad, which is not the problem. The problem is that the execution of the very engaging story is that bad, to the point that it became cringy and I do not know if the drama is serious or not. I felt like I was watching a movie project done by middle school students. Not exaggerating or anything.
Let us talk about the acting... I do not even know where should I begin with. It was a mess, and I was utterly shocked when I realised who is the actress of the lead female character. I guess this is one of her early projects, but thank God she improved a lot. I do not know if the acting in this drama is purposely done like that? Maybe they act like that to elevate the mood because it is supposed to be a funny story? It annoyed me sometimes.
I had a mind to drop the drama on episode two since I was pretty much bored and kept on wishing that it can end as soon as possible. But then I told myself to just try to finish it. After watching it, I kind of regret it. A bit.
However, I feel like this drama is suitable for those first time K-Poppers who were in the early K-Pop days in the past. I imagined if I were a watcher during the day the drama is released, I would like it because it was popular at that time. But as a viewer of this day, this drama is a mess.
Was this review helpful to you?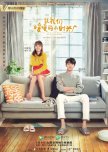 The reason why I selected this drama to be on the top of my priority to-watch list was that everyone was talking about it around me, especially my friend who fell in love with the lead male character. I already had a suspicion that this drama is nothing new to other romantic stories, and guess what? Of course, there is nothing new. Because of this, I had a low expectation and the story did not leave me any impression at all. I do get why people really like the lead male character, he exerts charisma that made me want to watch, nevertheless of the boredom I was experiencing.
I found the female lead character, Si Tu Mo to be one of the most annoying person I have encountered in a drama. People might think that her personality makes the relationship she has with Gu Wei Yi cute, but honestly, she came up too stuffy for me and most of the times to be very selfish. I am not going to get into it very much just because I do not want to post any spoilers. On the other hand, I am in love with Gu Wei Yi's character for a reason. He reminds me a lot of my friends who are in the science department, and I kid you not, they behave and think like Gu Wei Yi, Zhou Lei and their professor. A big applaud for the writer to create characters that we can relate to. The fact that I do feel certain things about Si Tu Mo's character is probably a sign that the actress did a great job of leaving an impression for Si Tu Mo.
Getting into the plot, I feel like the whole story was stretched. I believe that the total episodes of 24 are unnecessary. There are some scenes that are just fillers but has no point, but I do see it as fanservice for the watchers at home. The plot was also predictable, and I think I do not have that much opinion about it.
I was actually thinking that Wang Shan and Fu Pei's story would be a greater hit than Si Tu Mo and Gu Wei Yi's.
In conclusion, it was okay. Typical.
(EDIT) :
About the story's plot. The thing that lacked from the drama was that because the pace of the story is very slow, sometimes I still do not understand what is the point of the plot.
Was this review helpful to you?