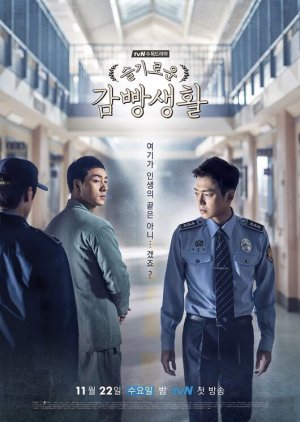 OKAY, this is me writing my first review.
I felt that Prison Playbook is the one to start from since it is my favourite kdrama.
I'll just explain part by part.

STORY: Story is incredible and so well written. There is absolutely no character you can hate, they are all written in depth and i remember this show best for the character developments. Best word to describe the story is 'journey' because it IS LONG. Every episode is 1h 30minutes but you'll enjoy every millisecond. Characters are my favourite thing about the show and you will be attached to every single one. You will laugh, and cry and wish to just hug them and sometimes really punch them. I'm just trying not to give spoilers lol.

ACTING/CAST: They all did an amazing job in bringing characters to life i truly have nothing to say except that they are irreplaceable.

MUSIC: Ahh yes, the soundtrack is AMAZING, starting from BewhY, to Heize, Eric Nam... It's probably my favourite soundtrack, well almost ever. Songs like Heize's 'Would Be Better' to my favourite song on the playlist Eric Nam's 'Bravo, My Life', you should listen to them even if you don't watch the drama.

REWATCH VALUE: Since it is quite long, I will rewatch it maybe only once more? I don't know yet ahahaha, that's the only reason for lower grade.

WATCH IT, IT IS THE BEST SHOW OUT THERE.


Was this review helpful to you?