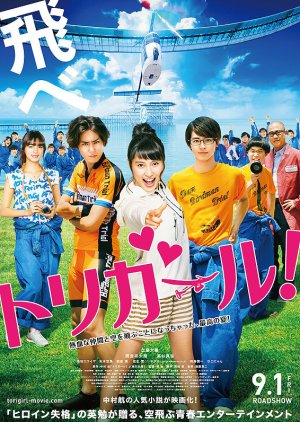 This movie is a total perfect 10! I was pretty excited for this because I'm a huge fan of Tao, but I didn't think it would be THIS good! The synopsis and poster just don't do this fantastic movie justice! This movie takes a little while to get going, but then it really "takes off" (flying puns galore) and you'll never feel bored. I was smiling and laughing the whole way through!

I had no real expectations for the story, but was a little hesitant about the genre. I'm not really into sports themed movies because I often find they're way too bogged down with cheesy tropes. If you're like me, never fear! This movie strikes a perfect balance between sports and story, and I was completely glued to the screen near the end, holding my breath with excitement. Human-powered aircraft is actually really cool and the movie makes it look very thrilling!

The best thing about this movie is definitely the electric chemistry between Yukina (Tsuchiya Tao) and Sakaba (Mamiya Shotaro). They're both so hot-headed that it felt like a genuine love/hate relationship and I was laughing my head off at their crazy attempts to outdo each other. Their bickering and yelling contrasted so well with their quietly beautiful friendship. It's not a romance movie, but you will fall in love this couple! Needless to say I definitely fell a little in love with Mamiya Shotaro. This movie brought a really hilarious ensemble cast together and they made everything work. The comedy is top notch!

The music was also awesome! The periodic use of "secret base" was hilarious. I love that song and they made it both a comedic choice and a more emotional choice. I loved it!

Rewatch value for this one is definitely high. I would probably rewatch it tonight! Definitely don't miss this movie!!
Was this review helpful to you?