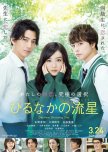 Well not bad, live action. Tbh there are a lot of missing elements (characters & scenes etc) which is totally understandable since its a movie and they cant  really cram the whole manga in it right? So I guess they just picked the important scenes and somehow made it all connected. Which worked for me because I have read the manga.  But on an opposite perspective of a person who haven't seen the manga, I would say that its rushed. I'm not even sure how Mamura fell for Suzume or vice versa. There was also a lack of character depth and growth which is really a bummer.  
Character wise, Mei Nagano was spot on. She was just so refreshing to look at. Miura Shohei on the hand also did great. But sometimes I just want to comb his hair lol (I know, they're just referencing the manga but still...) and Alan Shirahama... well, I may be a little biased about him since I was really pegging for Kentaro, never-the-less,  he pulled it off somehow. The little smiles he makes  were really cute.
All in all, it was a great live action. Plus, it was quite faithful to the manga despite some deleted scenes and characters.
Was this review helpful to you?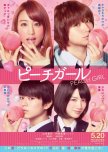 First of all, I'm a sucker for cliche movies...BUT only if  its well-executed and well-written which thank God, this movie has provided. Damn my shoujo heart is so satisfied. The whole drama of who the hell will she end up with worked for me. Of course, I'm rooting for Kairi (though I have a crush on Toji). He was there when she was at her lowest and for the first time, we see a second male lead who pushes the "lead characters" to get together. Ugh that was so refreshing. He also had the most character depth and growth. You see, not everyone is good at acads and I love how he's a person who works hard on his own way. Momo on the other hand was the typical shoujo character who's in looooove~ She's a character who's really forgiving (and somehow naive) but also would stand up for herself (DAMN I LOVE THE FESTIVAL SCENE WHERE SHE WALKS OUT ON THE TWO GUYS). Toji was the character you'd want to swoon over. He was the perfect, clean cut, gentle but will save you kind-of-guy. BUT, I hate how he handled Sae's bait. I knew it was noble idiocy from the beginning. He didn't have much of screen time, hence for me he's just a cardboard, one-sided character. Sae was the manipulative bitch (probably a psychopath) who's happy whenever our the main character suffers. I'm glad we get to see a glimpse of her character when she falls for Ryo because he says he accepts her. She was annoying all throughout the movie but I guess I love what she did at the end. At least, we get to profit on her manipulative skills. The acting was so-so. Its a bit cringy at some parts but tolerable. 
You see, everything about this movie is cliche. The betrayal of your closest friend, the noble idiocy of the boyfriend, the other male lead rescuing the lead girl, lead girl also wants to do noble idiocy...the list goes on. But you know what I really liked about this movie? The message that when you truly love someone, you'll want to make them happy even if that means letting them go.
P.S I haven't seen the manga or the anime.  So this is just the movie review per se (no comparison whatsoever)
Was this review helpful to you?