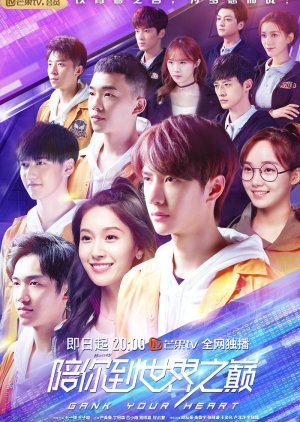 This review may contain spoilers

I loved how the illustrations for the show changed throughout ht certain points or major milestones throughout the show.

The story started off great. ML Ji Xiang Kong is an e-sports professional pursuing his dream. FL Qiu Ying is a e-sports upcoming commenter trying to pursue her dreams. The relationship started off rocky, they hated each other, the misunderstandings almost ruined both their careers. Don't worry everything gets cleared up by episode 11. I'm usually not a fan of huge misunderstandings but I think it worked for this show. Through these misunderstandings the leads grew to understand each other more. I loved how passionate they both were about there careers. I never really felt the romance chemistry between the two of them. It was always just a feeling of supporting and wanting the other to succeed. They made a promise to meet On the world stage together as player and commenter. There where a few cute moments between the leads. ( Qui Ying reaction to the Ji Xiang Kong working out was hilarious.)

After Ji Xiang Kong decided to form his own team I feel like the storyline changed.

After ml formed own team female lead stopped pursing her dream. She devoted her time into his dream. The only other reference of her still doing commentary was after a celebration party in Ep. 28 I think. Luo
Tian her mentor commented on how her latest videos were getting better but we didn't see that on our end. When her situation was cleared up and her mentor asked her if she would like to come back once everything is confirmed she said "of course, but Phoenix needs me now." I honestly don't think Phoenix needed her i couldn't think of a reason for her to give up on her dream. We seen her go from a commenter who knew nothing about e-sports but at least she was working to learn to being a team leader for her boyfriends team. I would have rather her become a national commenter early on.

I didn't see her funny best friend Lu Yi Yi much anymore. I enjoyed her character she was funny, a bit over bearing a times but I enjoyed her and Lin Yi Xuan relationship it was comedy. It was sad the storyline just stopped on there relationship and then it was just thrown back together at the end.

Side note: why was the female lead always being gift Face mask ????? Every time she was given a gift it was always the same brand face mask. They almost kissed again in ep. 31 but guess what... that damn face mask ????. And placement was great because now I'm looking for the face mask ????

Pei Xi is the true hero of the show. His character was amazing and he played it well. The only character that grew throughout the show. By episode 30 I was ready to stand up and clap for his performance lol. He was the best character on the show!

I don't know the purpose of the Ji Xiang Kong extra girlfriend Miya coming back that was just extra filler storyline. I hated it because it made me dislike the male character. He didn't do anything to provoke her actions but he didn't do much to stop it. Even when the leads officially got together there was no character growth between the two of them the story line just switched up to fit the situation if that makes sense. Episode 32 ugh, they just kept throwing her in the story. Episode 32 had me ready to give up on the show. It further convinced me the chemistry wasn't there between the leads. I didn't see the point in being the ex back again and this time e with a whole new plot. I honestly didn't think the ex was bad the first go round but the second time ???? this show could've been 7-10 episodes shorter. I hate end of the season break ups it makes me feel like I wasted my time especially with 35 episodes to have the leads break up episode 32 sucks. Don't worry the main leads get back together in the end.


The villains

For most of the show I felt like the villains all but for the manager won. Karma didn't catch the villains until ep. 32 which was long overdue considering it could've been cleared up had Kong supported Qiu Ying the way she supported him.
Was this review helpful to you?