If you're still experiencing technical difficulties, please report it
here
.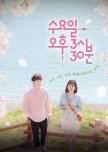 Get ready to be swooned! If you're looking for a light and cutesy drama, then this one is for you!
It is a short but oh so packed with cuteness and OH MY GOSH scenes. The main leads in my opinion, have great chemistry! The main guy, Jae Won, is your ideal boyfriend; caring, sweet, cute (haha in all ways,mind you he loves his bear slippers and bear apron) and all other good stuff. There was no episode where I did not squeal, well probably there was err when that shameless ex of hers is on the screen.
But anyhow, I highly recommend this drama to my fellow viewers who's looking for a romance fill in, as this definitely did the job for me. I hope that my future man will do that kind of dating course for me!!!
Overall, I give this drama an A- ;as the acting was good, story is not so out of the ordinary but I liked the concept of the whole Wednesday 3:30 pm project, casts were good (cute chemistry between the leads), phasing of the drama was perfect and last but not the least, this drama had cute OST too
Was this review helpful to you?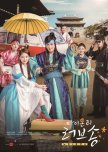 Personally had fun watching this short series. I found this hella funny, thanks to the narcissistic general and of course to Korea's top star, Song Su Jeong. The chemistry between the main leads were great! I'm so happy I got to see them again on screen after we got married.
Acting of the casts were good, except there were times where for Jong Hyun's sad scenes, I can't help but cringe/can'thelpbutsmile. Nonetheless, I think Seung Yeon portrayed her character very well and I was surprised with Jae Jin! OMG! Never knew he can act! FT Island baby is still as cute as before
Was this review helpful to you?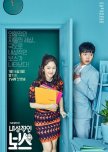 So this drama was OK for the first episode. Until the girl started to annoy me. Had to drop this drama due to her character, basically. Honestly, the main guy was the primary reason why I started this drama (as I loved him in Marriage, Not Dating).
As mentioned, I had to drop this drama because of the girl. Get this, the girl has no respect to one's privacy and or to one's opinion. She was also very pushy and over-all over the top. Not sure if it's the actress's fault for not expressing or acting her character well or what but she or her character was a mess. Hate to say this but, the girl lead ruined a perfectly good drama for me.
Was this review helpful to you?