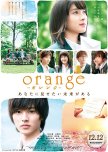 Orange
59 people found this review helpful
Orange was one of those movies I went into with huge expectations after months and months of anticipation. Not only had I read the manga all the way through in English, but I also have the first volume in Japanese as well as the light novel in Japanese. This movie has been marketed very strongly for the past few months in Tokyo which made me only more excited - not to mention the music videos that Warner dropped the week the movie hit theatres. Let me tell you that my expectations were beyond met and I couldn't be more happy. As an adaptation it is almost flawless. Only the next day am I remembering that the opening seen was different than that of the manga, which was definitely done for purely aesthetic purposes. The way it was altered in no way shape or form changes the understanding of the story at all because they follow this change through in the only other instance that it is relevant. That being said, I suppose it does SLIGHTLY alter how one many understand Naho as a character, but I think this is inconsequential.
First, the story.This is not the typical shoujo romance that you see hitting theatres. It's psychological and it's serious. The story isn't sugarcoated for something it is not in the manga and it is not that way in the movie either. It's about friendship and emotional struggle and love with a little bit of fantasy, yes, but it is also about something much darker and much scarier. (Not sure if I can write anything more than that without spoiling.)
The cast for the film was actually flawless; I have never been more impressed with a shoujo adaptation cast in my life. Every member of the cast fit into their role perfectly, whether you are a reader of the original manga or not. Not only are their appearances on point, but their actually acting is excellent. This film has very emotional content and there is never a moment where you are cringing because they are not able to properly convey the strong feelings of the characters. I was especially impressed with Yamazaki Kento, who plays Kakeru. Though he has been acting for several years, he is still a young and coming actor. Yet he was able to portray the complex and serious feelings that Kakeru goes through throughout the movie. Yet again I will repeat though that the whole cast was actually flawless.
I already mentioned the music videos by Sony and that is the only song that has left an impression on me from this movie. It is called 'MIrai' which means futurein Japanese, but is more of a distant future. Musically the song is beautiful as well as symbolically. The first time I heard it I cried.
With my raging reviews, why the 9.5/10 for rewatch value? I'm terrified that the movie will lose the magic. It's happened to me with other movies before. None the less this movie is actually the best movie I have seen this year easily. As soon as everyone can watch it from their countries, please do so! :)
**Edit: Now that I am rereading the manga I am noticing the things that the movie lacked. That being said, since the movie is an adaptation it should be expected that they cannot fit everything into the time limit. However...I am starting to wonder if the scene that basically says why the story is called Orange was in the movie...This does not matter for emotional value but it would be nice for people that only watch the movie to understand the title right?? XD
Was this review helpful to you?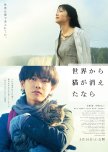 Just a note that I will be using the Japanese name and/or nickname (Sekaneko) for this film in the review. While the English translation is a good one, I am very much used to referring to the film by its native title.
Sekai kara Neko ga Kieta nara is one of those films that you anticipate to hit theatres for months and goes beyond all of your possible expectations. I have been waiting for this film since December, the last time I was at the theatre, and I have waited excitedly since then. For those that are not aware, this is actually a novel adaptation, and while I cannot attest to the accuracy of the adaptation I would argue that as a stand alone this movie is basically flawless. Yet again, I chose to see a movie that was very heavily marketed in both music stores and the clothing store in which the film had a partnership, and it should not defer anyone from watching the film.
As the synopsis suggests, this film is about a postman that discovers he will die very quickly of a terminal illness. He meets a devil of sorts when he arrives home and the story goes on from there. It's about love, family, friends, and about facing your own mortality. The way that the film was produced is beautiful and leaves a personal impression on those watching the film. You could not ask for a better execution of such a serious and dark story line. If you want a good cry, this movie is a must watch. I cried the whole movie and continued to do so through the whole credits and after the theatre lights turned back on.
The cast for the film was also excellent. Again, because I haven't read the novel I am not sure how well they match the description or vision of the author, but in my opinion they all did an excellent job. Being a fan of Sato Takeru, I was really excited to see how he would do in such a serious role. In a way the role is kind of reminiscent of The Liar and her Lover, though in that film his character is much less expressive. A few years ago Sato Takeru was the handsome young actor acting in manga adaptations, while he still does that it is wonderful to see his talent through other means; he does very well with a wide variety of story types and he always impresses me with his versatility. I didn't know the other actors but they were all excellent. With this kind of subject matter I am always very wary of Japanese films and how they will portray such raw emotion but I was not disappointed in the least. They were all so lovely and I look forward to seeing what other works they were in.
Music for Sekaneko was produced by Sony. The main song of the movie, also used in the trailer, is sung by a new 17 year old artist that goes by the name HARUHI. The song is dark and sad and mysterious sounding which I think is perfect for the film. The song also manages to carry a hopeful note which is also important to the story. It's a beautiful song and matched the film perfectly. Other songs from her debut release are also used in the movie with their instrumental versions. They are also the type of song that makes your heart quiver and only aids you in crying along with the characters.
As with my previous review, 9.5/10 on rewatch value is purely out of fear of ruining the original feelings that I could experience while watching the movie. It's absolutely a must watch for anyone with any interest in the sad, Sato Takeru, or contemplation of life and relationships. I now plan on moving to the novel after I have studied kanji a bit more so that I can see the story in it's original form. After DVD release or if you have a chance to see it in Japan, please enjoy!
Was this review helpful to you?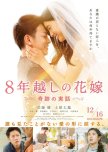 I saw the trailer for this movie when I was at a bookstore in Tokyo last week and knew that I had to see the movie immediately. It seemed like it would be that kind of movie that I would sob miserably over. Not only that, but I am naturally drawn to watch movies with my favourite actor - Sato Takeru! So naturally, I went to see the movie by myself last night at a late show where there were only five other people in attendance.
First of all, the story is obviously amazing. It is based on the true story of a couple from Okayama. While I haven't taken the time to look into their story fully on its own, there is a YouTube video showcasing something that happens in the movie - which is how the movie ended up being made in the first place. Basically, the story follows the love of Hisashi (Sato Takeru) and Mai (Tsuchiya Tao). One day, Mai collapses and slips into unconsciousness due to an extraordinarily rare disease. While doctors think that she may never wake up again, eventually she does and has to relearn how to do everything on her - from walking all the way to speaking and writing. It's impossible to go into further detail without more or less spoiling the whole movie, but basically we are shown the journey that these two people in love took together.
In terms of casting, I am biased considering how much I favour Sato Takeru as an actor. That being said, I am always a little hesitate with movies that require a showcase of extreme emotion coming out of Japan. Depending on actor, I find that they are shown as being extremely awkward and it often seems to come off as unnatural to me. Granted, given his performances in both Ruroni Kenshin and If Cats Disappeared from the World, I should not have doubted his abilities for an instant. He was awesome. On the other hand, I am less familiar with Tsuchiya Tao. She has been a rising star for the past few years and has therefore been in a wide range of films and also experimenting on variety TV. After seeing her in Orange, I wasn't that drawn to her. However, she excelled in this role. The agony that she had to showcase, as well as having to act as someone who had to go through complete rehabilitation were impressive to say the least. My mind has been blown away by the ability in which she navigated dealing with such difficult physical requirements. She also exceeded my expectations with her displays of emotion. The other main and supporting actors were all also excellent in their roles. Everything felt very smooth and natural - loved it.
Music was good - the standard for this kind of melodramatic, romantic, based on a true story kind of movie. I don't really have anything to say other that the music was always suitable for the particular moments. I do wish the music had drawn me a bit more into the story though. I found myself feeling distant at certain peak moments in the movie and the music may have been at the root of this problem.
Overall it was an excellent movie and I highly recommend it to anyone that is found of the work of Sato Takeru and Tsuchiya Tao. Anyone that likes melodramas will likely enjoy this movie but may be a bit disappointed by the distance they feel between the extremely emotional bits of the film.
Was this review helpful to you?