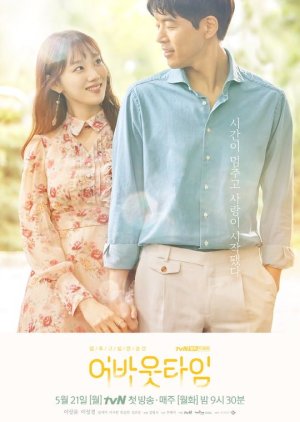 About Time has an interesting premise to the story. There are things that I really liked about it. I like that we actually get to see the play they are working on through out the movie. Much better than Just Between Lovers where you never get to see the memorial they work on during the entire drama. So, that was a relief. Also, the ending was excellent. Choi Micha's best friends were awesome. I feel the writer could have added more sweet moments between the families and friends than fill time with the stupidity of the ridiculous fiancé. She was so annoying and to some degree took away from the story rather than adding anything. There are holes in the story, but the character development was good. I like that the writer is basically saying that we never know how much time we have so we should live life to the fullest.

Lee Sung Kyung is cute as Choi Michaela. Does anyone know if that is really her voice? I like her drive and desperation at first to live and then to save. It makes perfect since that she would be terrified at the end. I like Lee Sang Yoon as Lee Do Ha. I think he has great charisma with Lee Sung Kyung with out it being over bearing. He gives her what she needs because he loves her. It isn't a stingy love. The other actors are good also, but I could not have cared less about their characters.

The music is good, but geez. At some point I was tired of listening to it.

I won't rewatch this.

I recommend this drama as an easy watch with an ending that won't disappoint. Just be prepared for some unreasonable fiancé angst.
Was this review helpful to you?