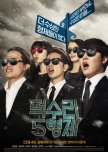 This is a really good movie. Saw it accidentally in RED channel then saw Chan Sung in it, my mom and I decided to watch it. The writer and director did a really good job in this. There were no dull moments in the movie. It's a really funny story with the right amount of mystery/thriller vibe! The plot twists and clues are just right, too.
The casts are perfect for each roles. The acting was superb, I almost cry at the end but end up laughing because of their funny quirks and dialogues. The music is good, too, because it will definitely stir and set your emotions.
I think if I watched this in the big screen/movie house I'll end up shouting and laughing my ass off. All in all, I think this is a heart warming film because it shows how a family can pull through hard time if and when they are together.
Was this review helpful to you?
Bunt
0 people found this review helpful
Let me just tell you that I've watched this without knowing what it is about when I entered the cinema during a Korean Fest and watched alone.
This is my favorite movie because of its rawness and simplicity at its best. This is a complete feel good film. The story will touch the heart of every human being. Who doesn't melt his/her heart when it's about a father and son story? More so, about a special kid with a big smile and dreams and a father with a kind and loving heart.
The characters did their best in portraying their roles. I laughed, cried and cheered with them. The music will move you and I'll probably watch this with my family, friends and future kids.
So overall, I gave it a 10.
Was this review helpful to you?