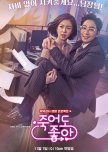 So, I am really new to the Kdrama universe, and this is the best work I have seen so far and my first 10/10. Note: I am currently rewatching the series again after binge-watching it the first time in 3 days, I literally devoured it. A must watch series, indeed.
Story: Amazingly orchestrated, there is no doubt that the writer has done a phenomenal job. I have seen a lot of plots regarding day repeating itself, but this one was breathtaking and original to my -so far- knowledge about that kind of plot. As the series advances, all the characters show growth and change. The fact that nothing is cliche about the story made me so amused while watching, I didn't know what to expect.
This is the first Kdrama, that I keep watching without reading spoilers about the ending. I was able to not get lost in the day-repeating-itself theme. The comedy was so natural and the fact that the focus was not mainly on the romance and no lovey-dovey sort of writing, was even a bigger thriller to my taste. It was more about humans and their interactions with each other, how they learn from their mistakes and flourish. I cried, laughed, got angry and frustrated and felt humiliated as the characters experienced through the progress of episodes.
There were many real-life issues related to workplace discussed in this series such as working mothers, harassment and bullying by upper management, how contract workers are treated, and workers rights.
This is a perfect plot for my brain to enjoy.
Actors: I am in love with the whole cast, each and every single one of them contributed a little bit to give this masterpiece of art. I loved those who were kind as much as I loved those who were evil.
I am obsessed with Kang Ji Hwan, I have been watching his series like crazy the past month since I started watching Kdramas and this by far is his best role ever. The fine-tuning of his acting, nothing overboard or lacking, the way he delivers the character while it learns and grows was breathtaking, I enjoy every scene he appears and long for the next.
First time watching her, Baek Jin Hee is a genius, and natural to the point that I felt like watching reality and not acting. I loved her scene with both male leads, it was so harmonious. I loved how she showed the strength of a female character while being feminine, perfect balance. I think I will watch many other works to this lady as she made me gasp in awe.
Gong Myung was very good at playing his part, I loved his sweet character and his interaction with his grandfather in the series.
The rest of the cast, I enjoyed and never skipped a second of the show focusing on their acting.
Music: Beautiful and uplifting, I spent a few days after the who playing it in my head.
Rewatch value: I am rewatching it at the time being, but this second time is to actually study and inhale all the small details that I missed during the first time and I believe I will be watching this drama several times during my lifetime.
Overall: Don't miss this show and enjoy it to the max, you will not waste the 16 hours spent on this drama. Watch it now!
Was this review helpful to you?