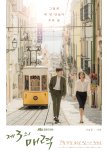 This review may contain spoilers
The Third Charm wasn't that bad. In fact I find this genuinely refreshing and an eye opener at some instances. This drama is easy to be misunderstood because you'll need to take a closer look to the characters and the messages it want to convey before totally understanding them. What separates Young Jae and Joon Young was their differences. During each other's absense, that's when they started understanding each other, they met again everytime they've come to that realization. The ending was left open and that was one of the kind of endings viewers hate but if we'll take a wider look, that's actually how "The Third Charm" works. Young Jae and Joon Young finally understand each other, them walking the same paths at the ending represents it. This drama had many symbolisms and if ignored, will cause more misunderstanding of its intention. I find the ending amusing, because Joon Young ends up being successful in his career (which is Young Jae's dream) and Young Jae ends up working on a local salon near her loved ones (representing how Joon Young originally wanted to live a normal and quiet life).
I also find the representation of the four seasons in our leads' life very effective. SPRING which is the beginning, SUMMER, a joyous and active season, AUTUMN, the transition and closer approach to end, and WINTER, the season where it's the coldest and we seek comfort and warmth to others, also where we prepare to start again.
There are some instances where the characters' motives and decisions were questionable and confusing, particularly Young Jae. That's one of the downhills of the drama, you'll have to sit through and wait a week after feeling frustrated and confused. This drama is probably better to binge-watch. The music pieces were also brilliant and the songs were catchy. Mature and outstanding performances to all the casts, especially our leads Seo Kang Joon and Esom. Overall, I believe this is a well-thought and well-written drama, but is very easy to misunderstood given that the setting and ending is quite different from your typical Kdramas.
Was this review helpful to you?