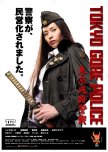 Tokyo Gore Police is nothing short of one of the goriest, most insanely f#cked up movies ever made. Now, I will get this out of the way now, this is technically not a "good" movie: the plot is flimsy at best, the SFX are low-grade and there is no character development; however, this movie is entertaining and fun.
There is a story, which is set in the future, where criminals called "engineers" mutilate their bodies and transform into half-machine half-human monstrosities to wreck havoc. Ruka (Eihi Shiina, from Audition fame) is an "engineer" hunter who uncovers some hidden secrets involving her past from an engineer which reveal a corrupted police force.
Really, that is the extent of the story, with the rest of the movie the director's way of showcasing some serious messed up mutations and plenty of arteriole spray. This is the only movie I think you will ever see something like a chair made of human flesh which urinates on a group of people into S&M, a man with a penis gun, a woman with a snail shell and a crocodile/vagina fusion. This is all OTT and played for laughs, and I think it works that way. In no way should this be taken seriously, much like The Machine Girl, this is a ridiculous movie that really accomplishes what it sets out to. Although it runs for a good 110 minutes, it feels like its over before it starts (due to its unrelenting pace).
I think this is a candidate for one of the best movies of the 2008, and I believe its guaranteed to be a cult classic! If you enjoy Cronenberg style biological horror and enjoyed Tetsuo: Iron Man then this is right up your alley.
Was this review helpful to you?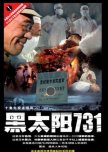 It's hard to review a film like this because it's one of those films which takes a long time to think about. I've put off writing about this for some time but I do want to write about it. Not only is it one of the most disturbing, depressing and disgusting films I have ever seen, it is also extremely powerful and surprisingly well-made. The director goes to many lengths to make this more than an exploitation film, but at points it can't escape being an exploitation. T.F. Mous (director) gives this a documentary feel as he (loosely) chronicles the true events that occurred during World War II at Squadron 731, a Japanese experiment facility where they tested biological weapons on Chinese and Russian prisoners of war.
Before watching this movie I had heard and read countless reviews about how disgusting and vile the movie is. I had heard plenty about the violence and gore and how bad it was. Having seeing countless exploitation and splatter movies before I honestly didn't know what to expect considering this was meant to be one of the worst. This movie is much more than gore, though, it is a brutal re-telling of some of the worst war crimes committed. The acts of torture and murder are all spaced throughout the movie because in between T.F. Mous tries to develop the story and characters. He goes into some detail about the Youth Corps and their training, he tries to flesh out some of the young ones and the commanding officers and even some of the prisoners. It shows he is more than just a director trying to create a shlocky horror movie, but someone who wants to tell an accurate account of the atrocities humans can commit so easily.
That is not to say the gore is weak, all of it is realistic (too realistic) and disturbing. Just the thought of some of it makes me feel sick and cringe. It's enough to turn most people off food for awhile. However, one of those instances of gore put me off enough to deduct 3 marks off the movie. The use of real animals in two scenes completely disgusted me. I have always stood by my opinion that real animals should never be killed for the purpose of a film and in this case it is no exception. Aside from that it is one of those movies you must see before you die, only once, however.
Was this review helpful to you?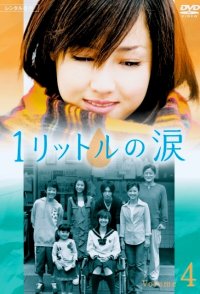 At the time of writing this review my eyes are sore, my face is red and I have a pile of tissues next to me. That's right, only a few minutes ago I just finished watching this drama. Was it worth the nights of countless tears and boxes of tissues? Most definitely. This is my first Japanese Drama, and one I'd been meaning to watch for a long time. 1 Litre of Tears is probably, if not the most recognisable Asian Dramas out there, mostly known for how sad it is and the fact it can reduce pretty much the hardest soul to tears.
1 Litre of Tears really is one of the most inspiring stories I've ever seen and here it is told beautifully. The story explores the meaning of living life to the fullest in a way which isn't trite or melodramatic, but heartwarming and inspiring. Aya's strength throughout her illness is simply amazing, as is watching the bond with her family strengthen and friendships develop.
The story is told well with the help of group of very talented actors, none of which can be given enough praise. Of course Erika Sawajiri as Aya is excellent, but every other actor does such a good job. I'd like to mention Hiroko Yakushimaru, who plays Shioka Ikeuchi (Aya's mother) who brings out a mother's strength so well, but also her vulnerability. The OST is excellent, featuring some moving songs and a beautiful theme. It is a relief when the soundtrack accompanies the story, visuals and performances so well.
I left this drama feeling uplifted, even after the litre of tears I cried (probably more to be honest). Watching the family bond was beyond moving, and Aya's selflessness inspiring. I feel now like I need to live life to the fullest not just because I am healthy, but to live for those who can't do so. Cherish the day, the blue skies, my family and friends and remember to always look forward to the future.
Aya, your story appears to have inspired many people on this site and around the world, wherever you are I'm sure you are walking happily. People who are reading this and have not seen this drama, do yourself a favour and do so, just keep a few boxes of tissues handy.
Was this review helpful to you?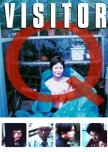 I noticed this movie does not have a review, and I think it deserves one! However, I don't know how to begin.
Takashi Miike is known to make extreme films with plenty of violence, sex and sexual violence. But he is also known to have a message and a meaning with it all, it is not shocking or controversial for the sake of being so, and this is what makes Visitor Q a surprisingly deep and touching film. I warn you though, Visitor Q is not an easy or comfortable film to view.
Even for the most hardened viewer this is hard to stomach. It is violent, there is incest and necrophilia and many odd fetishes throughout. This would deter most people but if you are open minded and willing to break out of your shell this movie is oddly funny and touching and has a really good message about family.
The story is simple, but this is not a bad thing, it allows room for all the characters to develop over the course of the film. It is the actors who should be commended for taking on such a challenging film, they all do such amazing jobs at portraying sick, perverted people.
If this is your first Miike film I would strongly recommend seeing Audition, Ichi the Killer or the Dead or Alive trilogy before seeing this as this is easily his most confronting film.
Was this review helpful to you?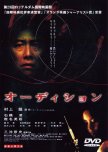 Audition
15 people found this review helpful
Takashi Miike's Audition (English translation) is easily one of the best horror films since Wes Craven's Scream. This is not just a horror movie though, it is part drama, part romance. It is a study of human emotions. Nothing horrific happens until the last 40 minutes (and let me say, it IS horrific when it comes). The first 90 minutes are slow, but extremely interesting.
The movie starts with Shigeharu Aoyama standing by his wife as she dies, his son, Shigehiko also witnesses. It's seven years later and Shigehiko recommends that Aoyama should get re-married. His friend suggests that he hold an audition. He agrees and meets Asami, a beautiful and seemingly normal woman, but she soon takes him into her world of sadistic torture and violence which he may never leave.....
Audition has a lot of positives going for it. All of the main actors give brilliant performances and Eihi Shiina, who plays Asami, is eerily good. The direction suits the movie, it is slow but assured, and Miike doesn't always show or explain everything, which gives the entire film an uneasy atmosphere. The score is brooding and haunting and although the pacing may seem slow Audition is never boring.
This movie won't appeal to all, however, while some hail it as a masterpiece, others say it is sadistic and boring. My advice would be not to tackle this as pure horror, more of a slow drama/romance with splashes of psychological and visceral horror (especially in the last 30 minutes). And for those curious about the gore, there is very little of it despite what some may say, but that little bit is still disturbing.
Was this review helpful to you?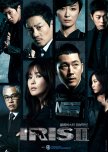 IRIS 2
6 people found this review helpful
I don't usually write reviews for dramas just because I watch quite a few and don't have the time to sit and write proper reviews for each one but I feel I need to express my feelings for this drama now! I loved the first Iris, it is one of my favourite dramas, I was excited for this one but wary that it may suffer from sequel syndrome and pale in comparison. Well, although it may not be as good as the first Iris, it definitely holds its own as a solid action drama.
The story continues straight from the first Iris and aims to answer all the questions we were left hanging with, whilst exploring certain characters' histories. At first the story was quite fast paced, with multiple plots going at once, sometimes to the shows disadvantage. It wasn't until the second half the story started to slow down and gain some focus. I think the show was stronger towards the end, with each character having their own goals and doing whatever it takes to achieve them, no matter how wrong or delusional they might be.
The show was cast very well, although I'm not quite sure it is necessary to cast K-Pop singers in these shows, it feels more like a gimmick than anything. I don't think they are bad actors, but they do pale in comparison to actors like Jang Hyuk, Lee Bum Soo, Oh Yun Soo and Lee Da Hae. For me, the sore spot here was David Mcinnes, who really can't act at all, and made any scene with him in it almost unwatchable.
The OST is fantastic, as good as the first Iris OST. Davichi's 'Don't You Know' and B2ST's 'Black Paradise' being the standout tracks for me. The score from Iris is reused for the action scenes, which I don't think is a bad thing when it was so good in the first place.
Like Iris, Iris II is easily rewatchable, in fact, watching the two dramas back to back would be excellent as it feels like one story. Overall Iris II is excellent, despite a few missteps early on with the story, overuse of bad CGI and casting David Mcinnes. It is definitely well worth watching if you are fan of action dramas, or if you loved Iris and to a lesser extent Athena: Goddess of War.
Was this review helpful to you?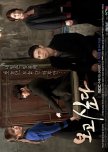 This is probably my first true melodrama and I must say it blew my mind! The entire production was excellent from start to finish and makes me want to hunt for me dramas of this calibre. I find a major problem with Korean Dramas is the tendency for the story to drag about midway, with too many filler episodes and zero story progression. Even some of my favourites are guilty of this, but Missing You manages to overcome this problem as every episode there are revelations or twists which advance both the story and the characters.
On that note, the story here is fantastic. Sure, it is fairly heavy, with betrayal, kidnapping, sexual abuse, gangsters and murder all featuring at one point or another but this is accompanied by many lighthearted moments, especially in the earlier episodes set in the past. The first four episodes were outstanding, and when the story moved on to the present it kept up for the entire 21 episodes.
This drama quite possibly has one of the best casts I have ever seen. Yeo Jin Goo and Kim So Hyun as the young Han Jung Woo and Lee Soo Yeon were perfect, maybe the best child actors at the moment? They were both innocent and cute, yet heartbreakingly tragic, and after episode 3 (if you've seen it, you know what I'm referring to) I was stunned at how well they acted some incredibly emotional and confronting scenes. Park Yoochun and Yoon Eue Hye as the adult Han Jung Woo and Lee Soo Yeon were also excellent, proving they can both do comedy as well as serious drama. Yoo Seung Ho, however, is the stand out here as he tackles the incredibly hard role of our anti-hero Kang Hyung Joon, a villain who we also pity and at times understand. I look forward to seeing him in other dramas from here on. The supporting cast should not be forgotten, they were all fantastic in their various roles.
The music played a large part in making this drama so effective. The main track, Tears Are Falling by Wax, is probably one of the best drama tracks I have heard and probably caused this viewer to cry more times than I'd happily admit. The score as well was fantastic.
So why do I give a rewatch value of 5 when I'm raving about this drama? It is heavy, and at times draining to watch, the constant sadness, especially earlier on is tough, and some episodes were spent watching through blurry eyes. This is a drama I probably will watch again eventually, but not anytime to soon, the recovery period is quite long.
Overall, however, this drama is fantastic in every way. The story, about lost love amidst a world of murder and scheming, is told beautifully through the actors, music, direction and cinematography. By the end we have been through a huge emotional rollercoaster, and although some may not like the ending, which is both uplifting and tragic, one can't deny this show has a lot going for it.
Was this review helpful to you?