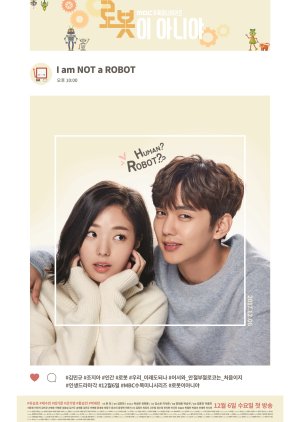 This review may contain spoilers
This drama was SO GOOD! It's funny it's cute and made my heart feel so much emotion! I honestly wish that Kdrama would reduce the conflict scenes (the office talk if you know what I mean) and focus more on the growth of the two main characters instead? So there would be more romance OH MY THAT DEFINITELY WOULD BE SO AWESOME!

MIGHT CONTAIN SPOILER AFTER THIS!

By the way, I think Min Kyu's disease was a little weird. So when the first time Ji-Ah touched him, his illness recurred but then when he touched her and thought that she was a robot nothing happened?! Even though at that time he hadn't has any feelings for her yet, and the fact that the filmmaker decided to cure his illness by "having someone special/connecting whatever" I was like WTH?!?!! I think it would be better if they just made Ji-Ah special from the beginning and that's why his illness didn't recur when he touched her instead of him having some connections with her (is that make sense?)

Nevertheless, highly recommended cause IT'S SO CUTE!
Was this review helpful to you?