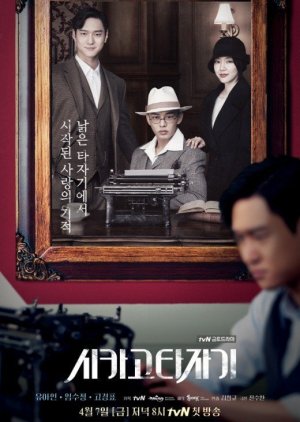 When I think of Chicago Typewriter, the first thing that comes to my mind is a Matryoshka doll. It might look plain at first sight but if you look closer, you spot all its beautiful details. While slowly uncovering layer by layer, your curiosity starts to grow because you want to know how much more there is to find. Until it takes you to a point where you eagerly wait for the next revelation that you know will come.

And in the end when you reach its final piece, you start to really appreciate every single item. Although each of them has their own shape and characteristics, you notice that special bond that connects every part, smoothly like a cogwheel. And when you put it back together afterwards, it matches perfectly again.

That's how I experienced Chicago Typewriter. I was sold from the first minute. The start was slow and the show takes its time to tell its story. But I never even once complained about the pace. I enjoyed every second of it. Why? Because I simply savored every interaction with the characters. It felt like they took me along on their journey.

The people in this drama - and yes, I call them people because they felt real to me, no matter how estranged they appeared sometimes - will grow on you, especially the female lead. She's one wonderful fangirl many of us can relate to. Being obsessed with her crush in a totally unharmful and charming way, you can't help yourself but root for her. And who wouldn't take the chance and meet his/her crush when an opportunity arises out of the blue? Even if that means to maybe get disappointed by that one person you dedicated your life to. Even if that means you maybe should decide about ending that long-lasting one-sided relationship. So, hands down for the first honorable mention in this cast: Im Soo Jung. An endearing actress who not only impersonates our everyday fangirl but also a devoted freedom fighter per se.

And who is the counterpart to every fan? Of course, the star. That ray of light we see whenever we feel down. Those people who have all the rumors floating around them. Charming on the outside and... either exactly the way we imagine them to be or shockingly different. Being a nationwide renowned bestseller author in the present (and a seemingly resigned writer in his past life), Han Se Ju is certainly one interesting figure. Reserved towards strangers, with a proud and confident demeanor, he might appear paranoid, rude and self-centered. But he learns to change his ways and views, and certainly grows with time. Yoo Ah In is one brilliant actor whose magnificent performance impressed me deeply.

Finally, the third to be in league and a must to be mentioned here. Go Gyeong Pyo. He plays the handsome and classy Yoo Jin Oh who stirs up the daily lives of our other two leads. His appearance triggers a chain of unforeseen events that will certainly change everyone's path. Without telling too much, Go Gyeong Pyo clearly nailed this role.

These three are telling a story about fateful friendship and love in desperate times, that will eventually engrave its signature into your heart. Their tale has "passion" written all over its face. Passionate love, passionate friendship and the passionate desire for your people's freedom. It's captivating in every point, once you let your guard down and allow yourself to be swallowed by its mysteries. Emotions are raw and daring, and an important pillar for its partakers. It's like fire, burning hot and dangerous. And the leads are doing a phenomenal job on conveying that driving emotion.

The mystery surrounding this drama may not be completely new, but still be a rare kind in its execution through neat hints that will be revealed step by step. Starting with visually beautiful scenes, the drama takes a constant pace with a fluent transition between the past and present story. This helps building up the layer-by-layer suspense which ultimately vents into a poignant finale. On a side note, you have of course your usual suspects as well, your lovely sidekicks who add some fun and comedy to the story. And you have that villain that you will hate with utter disgust.

And before I will conclude my review, let me tell you that once you got to listen to Chicago Typewriter's haunting soundtrack, you won't be able to turn back. It's like the icing on the cake and you'll be lost for good.

Don't hesitate to watch this mesmerizing gem. Let yourself be swayed, and take on this incredible journey with an exceptional love for details in every aspect. Even though you might not end up with a 10 like me, because you perhaps find some things only normal or average along the road, it's worth the watch nonetheless. In the end, I might sound a little biased but this one just hit all the right spots for me. It never let me or down or disappointed me.
Was this review helpful to you?