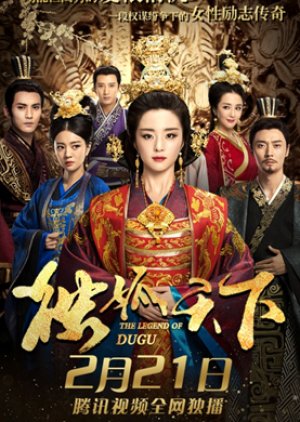 This review may contain spoilers
I was very excited for this drama because the plot sounded interesting and intriguing. Three sisters getting into political grounds, attaining power, how great does that sound?

The drama did not really live up to my expectations; however, i believe that it was worth watching. The legend of Dugu is about three sisters. Out of the three, two of them (Dugu Ban Rou and Dugu Man Tuo) both treasure power and entitlements, while the young sister (Dugu Jia Lou) desires peace and happiness. From my point of view, this drama did not have much to do with politics. It's more based on the sister's romantic relationships and how all three of them become successful in their own way (only Dugu Ban Ruo and Dugu Jialou became actual queens).

The casting could have been better, Ady An was the only person who left a great impression on me. Her acting is phenomenal and perfect. Her chemistry with Jeremy Tsui and Zhou Ting Wei was so much more heart warming than Hu Bing Qing and Zhang Andy's. Honestly, Hu Bing Qing and Zhang Andy had no chemistry at all! Their relationship was not delivering to the point where i shipped her with Ying Jun. This lead me to skipped through all of their 'romantic' parts. Another big problem with this drama was Dugu Man Tuo. She is extremely annoying and irritating. Dugu Man Tuo is always trying to strive herself into power, no matter what it takes, including sacrificing her dignity. She neglects people's encouragements, telling her to stop being evil and even tries to steal both her sister's significant other. However, she provides the story with a climax, no matter how provoking her character is. I believe it's both the script and actress which made the character, Dugu Man Tuo, flawed. Also, Yang Jian (Zhang Andy) was so stupid and annoying in thw first half of the drama, he believes EVERYTHING Dugu Man Tuo says his actions were ao idiotic. However, in the later half, he becomes a more decent human being and learns to love Jialou. Another problem with this drama was the amount of people who died! LIKE WTH!!! To prevent myself from spilling spoilers, i won't mention those who passed away in this drama, but some deaths may include your favourite characters (isnt that great)! So, out of all actors and actresses, my favourites were Ady An, Jeremy Tsui (his love for Ban Ruo was unconditional, even i could feel it), thats about it.

The soundtracks in this drama were fantastic and i was not really irritated by any sort of music displacement (which we all know happens a lot in cdramas). HOWEVER, whenever there is a ceremony or celebration in the palace, it is inevitable for some sort of dancing crew. I am perfectly fine with that, BUT the same instrumental song is ALWAYS being played, IT GETS SO IRRITATING WHICH MAKES ME ROLL MY EYES EVERYTIME.

Overall, as a person who never completes dramas myself, i am actually surprised that i managed to finish this drama (i did a skip through some repetitive and uninteresting parts though). I can almost say that this drama is my cup of tea. Its not anything special and never seen before, but it does have its own magic. I truly do love this drama and it left a very great impression on me. I would highly recommend people to watch it (i am aware that there are no English subtitles, but definitely give it a try when there are).
Was this review helpful to you?