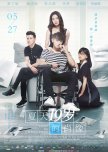 1.) Zitao
This was my first Chinese movie and let's be honest, I watched because of Zitao, who I follow because of his music. I've heard a lot of critique about his acting, seen a few scenes from other movies and read his interviews in which he was very determined to improve his acting and prove people wrong in this very movie.
After seeing it, I have to say one thing - whoever ever said Huang Zitao is a bad actor is going to have to reconsider. He quite apparently worked hard and his acting was smooth and natural. I felt extremely proud of him.
2.) Music and narration
The soundtrack was good. Nothing outstanding, but nothing that would disturb your experience either. Overall pleasant. What I loved much more though, and will put it in this category, was the narration. It is not often that movies are narrated this well, but this one blended well into the movie and I truly enjoyed it.
3.) Aesthetics of the movie
Oh yes. Aside from Zitao being my aesthetics in general, I loved the dim colours and cold tones as well as the warm, calming and almost retro ones ones the movie was set in. The sets of the scenes were clear and the fashion pure and simple, complying with the theme of innocence.
4.) Plot
As for the movie itself, it was also probably the first time I've watched this drama/mystery genre on my own accord, and I must say it was a rather good experience; the first hour even brought a bit of paranoia along with the suspense. I was really into the plot and had no idea about the prime suspect or the twists in general until the moment the truth was revealed.
5.) Romance
Relationships and their development are my big pet-peeves and I am therefore very demanding in this area. I was a bit afraid of how it's going to work here, but I was pleasantly surprised. Yes, the beginning might have been a bit rushed and not quite believable (or maybe I'm just not into all this stalkerish love thingy), but the rest was rather cute. Then again, even the beginning could probably be accounted to that image of young recklessness, which was definitely a feeling I got from certain scenes and the main character in general. I also can't complain about the conclusion, which brings me to the last point -
6.) I loved the ending. By the ending I mean the very last scene in particular. I loved how the movie turned out. I would recommend it just for that, but the film has many other plus points throughout, so I'm just recommending in general.
Just watch and see. :)
Was this review helpful to you?