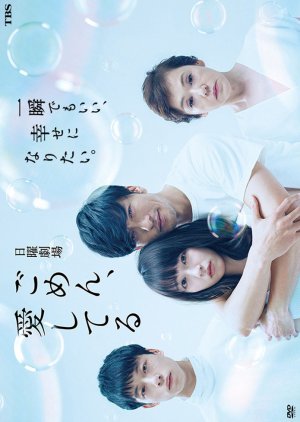 What is the meaning of a life where everything goes wrong?
Should it just end to begin again in a new setting?
How does it effect people along the way?
What remains after it ends?
What is the value of a mother to her son?
What is the power of our personal decisions on the lives of others?
Is love fleeting or does it stand the test of time?
Should others dwell on its memory?
When our footprints fade from the beach of life....?

Gomen, Aishiteru addresses these issues with a very well-acted performance from our main character Ritsu. His performance is gruff, blunt, thuggish, but completely believable despite his perfectly tragic situation. Our supporting characters also provide wonderful performances despite the tough competition. Originally a Korean drama (which I have not seen), this Japanese version feels like any other Japanese drama, except for the setting partly taking place in Korea. The story progresses at a walking pace, not rushing from plot point to plot point, but not dragging on too long. It just goes at the pace of life. The various subplots basically act as a backdrop for our main character to play out his drama. They are good in their own right, but ultimately just fill time.

Should you watch Gomen, Aishiteru? If you like tragic dramas with lofty contemplation about life and death, yes. While there are lighter moments, this is not a comedy. While there is a love story, I would not call it a romance. It is a tragedy in the truest sense. And I would say its only main fault is that it is a bit TOO true a tragedy. The situation is too perfectly tragic as to be unbelievable. But if you watch it for what it is, an idealized tragedy, you will enjoy it very much.

"If I'm to be reborn, let us be mother and son again."
Was this review helpful to you?