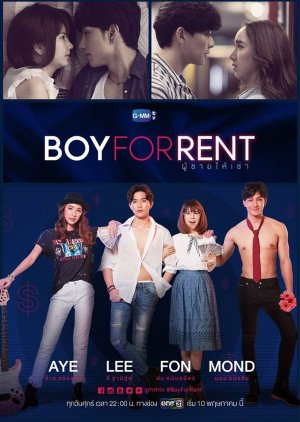 I read many of the reviews before starting this drama and honestly it *almost* deterred me from watching it. So glad I decided to give this drama a shot!

If you want a lighthearted romantic comedy with a lot of eye candy (hello, Mond's 6-pack abs anyone?!), then BFR won't let you down. I never write reviews, especially for dramas, but I feel that the negative reviews shouldn't deter you from watching this.

For those who are looking for extremely flushed out characters and having every single question you have about the plot answered, you won't get that here. But let's be real, people, does BFR sound like a real concept to you?? Probably not. But what you will get are lovable characters, a lot of chemistry between our leads, hot make-out sessions, and lots of laughs.

Honestly, I liked Smile's character - there's a very endearing characteristic to her and I thought Fon did a great job. Not everyone could pull off an innocent character without being annoying. Also, I initially started this drama for Lee Thanat but ended up falling hard for Mond.

Fon and Mond's couple scenes had me gushing and rooting for them the whole way. I wasn't a huge fan of our second lead couple but they definitely grew on me.

Anyway, if you're looking for a lighthearted and short romantic comedy, I would highly recommend this. Considering there are only 12 episodes, a lot of my questions were answered and it was the ending I had hoped for. The storyline and the characters had me hooked. All you need to do is sit back and enjoy the ride.
Was this review helpful to you?