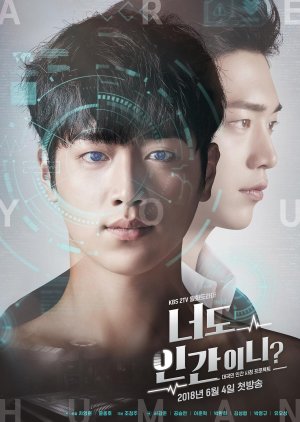 What does humanity truly mean? What does it mean to be a human being?
This drama started with a broken-hearted mom, an AI expert, who ended up creating an android with the exact same physiognomy her son - Nam Shin - had during his stages of life and went to the point the android would have to replace human Nam Shin on account of this being the victim of an attack against his life and afterwards finding himself in a coma.
The progress in the plot of this drama happened evenly, working well in the parallel between fiction and reality. It was great to see how they made sure to explore the main point here, 'what's the meaning of being a human being?'. An AI who ended up developing pure feelings towards humans and could be more sincere and good-hearted in judgment and emotions than a human being... How could this happen?
What I truly find admirable about this whole story scenario is that they value more what we are as 'beings', our essence, than our physical feature/view/appearance - which term you feel it's the best to understand with. And you know what? Such a huge moral lesson to all of us it is! Learning how to value people in due to their feelings is more precious than giving them attention or recognition over what they look like or their social standing, studies. So, 'what does it mean to be a human being?,' I ask. What does humanity means? Are we all reduced to physical, external aspects? Does it mean to be human? Our appearance? Or our ability of freedom? Freedom of thoughts, freedom of choices... Our ability of choosing between good and evil, of feeling empathy towards other living beings, of feeling love? Of caring?
Yes, yes. The plot is not only about this. There are a bunch of other things happening again and again. There is a cutie-cutie romance, the bad guy - as always -, a full-of-heart and tots funny dad. But you know what? What truly made me fall in love with this drama wasn't only the adorable smile of a certain robot nor his pure heart, but how it made me feel like we are all so precious for whom we are. We are able to feel. And what else could be more incredible and magical than this?
By the way, before I forget to point this out, kudos to Seo Kang Jun! I almost made a voodoo doll of his human Nam Shin at certain point of the drama, but aye, aye, the guy had a golden heart at the end of the day.
PS: The OST tracks are as adorable as NS III's sweet gaze. Well done!
Was this review helpful to you?