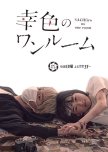 I haven't finished watching all the episodes yet but its giving me similar vibes to a liar and a broken girl, only difference is that this movie has a somewhat happier delusion.

Both have kidnappings and somewhat abuse/trauma as well as the 2 main leads falling in love with each other.

Both have 2 main characters wanting to find their own version of happiness even if it means lying to themselves just to maintain it.

Both the female leads came from a dark/abused childhood in a way, sachi was abused by her parents while ma-chan was kid napped and traumatized at young age.

Both of the girls' live in a world where they think happiness doesn't exist for them until they meet the one person (male leads) that share or show that they deserve it even if it means lying.

Both the male leads (onii-chan and mii-kun ) are willing to go to such lengths to make the female lead happy. Whether it be lying or hiding from the police.

I just hope the ending to this is somewhat similar to a liar and a broken girl.

I really hope they find their happy end in a way.