Name: Disacode Akira
Native name: アキラ
Also Known as: AKIRA
Nationality: Japanese
Gender: Female
Born: March 15, 1987
Age: 32
Akira is a model of KERA and singer of the group DISACODE. She starts being a model for KERA in 2008 after someone ask her too after a snap shot, but she were a model since 12 years old. She was the singer of the group BLAUE ROZEN until 2012. She starts being an actress in 2012, her debut film was Ai Ore! Love me!.
Her blood type: B
Her hobby: eating
Her favorite sports: basket
Her quality: she always laugh
Her default: she's shy
Time of sleep: approximately 3h per day
Favorite animal: dog, cat and capybara
Favorite color: red, black, pink and yellow
Favorite film: Pirate of the Caribbean
Favorite anime: One piece
Favorite place to eat: sushi restaurant
She pass her vacation watching anime and reading manga. She dreams to visit Italy. She don't usually wear girl clothing, she likes boy clothing most. Her favorite clothing brand are SEX POT ReVeNGe, ALGONQUINS, SUPER LOVERS, and ALICE and the PIRATES. She played the piano since she were three, she can also play a samisen (a three-stringed Japanese banjo)a little. She easily gets bored of her hairstyle, but she have a lot of wigs for that reason. Her skin care routine is a toner and I massage sometimes. For keeping herself in shape she do muscle training and don't eat a lot of sweet.
Source:
http://profile.ameba.jp/akiriot/
http://www.tokyorebel.com/pages/interview-akira
Articles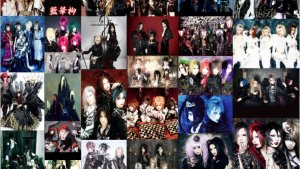 Editorials

- Mar 17, 2017
Take a look at these dramas and movies starring Japanese Visual Kei musicians turned actors.