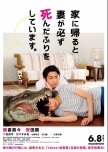 This review may contain spoilers
deep meaning behind marriage life
if you don't have something else to watch, watch this! I know the titles didn't make any sense to many of us but trust me, it's really a good movie. This movie portrayed a deep meaning behind the marriage life. the story doesn't carried away like at first, I thought that his wife will play dead all along way till the end of the story they are not! I love how Chie said that in this life there is three things that gather around us, up, down and maybe. This movie also remind us about as a couples, love should go with the flows and be more laid back without forcing other partner to be doing something that can make them stress out.
Cast: I think it really good consider that I enjoy their acting, their chemistry seems all natural and not feel forceful.
Music: I don't pay much attention but some of the background sounds doesn't suits the certain mood o the story.
Rewatch it: Totally! I maybe rewatch it with my friends or my family.
[Btw sorry for my bad English]
Was this review helpful to you?