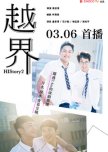 This review may contain spoilers
I'm going to be so unpopular in this review session. But I seem to be the only one not liking the main characters and that the story was focused on volleyball. But I guess it's personal preference. Overall the story was probably the best written one of all the BL drama I've watched. The actors performed naturally and the atmosphere was good.
*SPOILER*I felt the brothers in the series were my favourite couple, not the leads.
If you like volleyball and the leadactors this series is definitely worth watching. But it didn't grip me as I would have liked.
Was this review helpful to you?