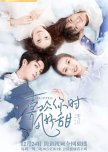 Flipped
7 people found this review helpful
It's kinda refreshing, I personally like Shuang-shuang's personality in this drama.
For the plot, overall it's quiet nice. But, I think the antagonist character need to be more evil. No major plot twist in this drama, so not enough excitement. But for romance enthusiast like me, this drama is awesome, because a lot of kiss scene (hehe). I like how they really focus to the story of MC, not really pushing the supporting role one (especially the ending). Because this can be categorized as square-typed love? HAHAH.
For the music, i feel like there are no variant of music in this drama. Because, I usually listen to drama OST, but for this one only the ending song sounds good. But, if you're someone who dont focus much on music, then skip this one.
If I have much free time and need to fulfill my thirst for romance thingy, I'll surely rewatch this drama.
Was this review helpful to you?