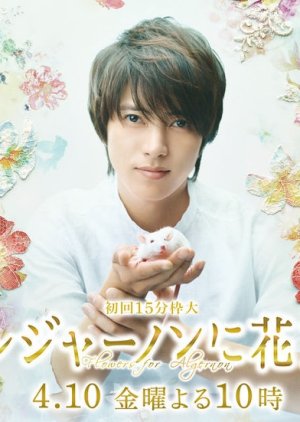 This review may contain spoilers
I am really confused after watching this drama. Like what is the point of the drama? Why everyone want to sacrifice everything for the daughter of the rich businessman? And the end? Ugh. I want my 10 hours of my life back, like seriously. Ok let's get to the point. I'll start with the negative first:
1. Why Yamapi? Clearly Sakuto's character is too big for his. His acting made me cringe every time, esp when he was still "stupid". When the drug work (later episode), he is back to his comfortable spot as a "cool" kid.
2. All characters beside Sakuto, Haruka, and the bad Doctor guy seems redundant and have no impact whatsoever. At first, I thought Hiyama Kousuke character will have some meaningful impact to the overall story as he was the only one had a solid background, but as the story progress, he was disappeared as a background. And the 2 girls (koide &kawaguchi)? Why they even exist?
3. Ending? sucks. I really felt that the ending is one of the worst endings I have seen so far. And to be honest, I don't feel the connection of good friend between Sakuto, Yanagawa, and Hiyama at all. Esp Sakuto character was portrayed as an ass after he became clever. I mean after he became clever basically he just becomes Haruka lover's and ditch all his friend! Like, come on dude. He treated his friend worse than his friend ever treats him. But amazingly, in the end, Hiyama and Yanagawa somehow are willing to leave everything behind to be with Sakuto? And haruka, who convinces everyone that she loves sakuto did nothing when sakuto leave her? I guess she only like clever sakuto, huh?
4. Slow paced drama. Since the material & story is not a lot to begin with, you will feel that the story progress really slow in the middle. I almost gave up 3 times after episode 3.
5. Casting? I like most of the actor except Yamapi and Tanimura. I knew these people can act, but sadly they just dont have enough material to shine. I feel the MVP of this drama is the Ishimaru Kanji, His character development definitely is the most interesting compared to other including sakuto. And he can act!


Positive:
1. Tear jerker drama. If you like heart-wrenching story you should watch this.
2. Music was OK-ish. nothing special not bad either.
3. Sorry but i can not find anything else.


Was this review helpful to you?