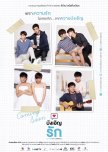 This review may contain spoilers
I needed to make a review for this drama after watching it two times because honestly, this might be one of the best BLs, even though the drama got worse towards the end. AexPete, TinxCan and PondxChaAim really saved the drama. The other couples weren't really, well, worth the time.
The main couple shows the healthy way of two boys falling in love, what it means to be together and what it includes. What makes this drama also so unique is that they include family and being LGBTQ+. I was so touched by the scene where Pete confessed to his mom on being gay. Other honorable mentions of healthy relationships include Pond and ChaAim. I never thought I would love a straight relationship in a BL this much (they usually end up being weird and full of unnecessary drama). I loved how honest and respectful Pond was even though he was shown to be a devoted sex-enthusiast throughout the show. Pond giving advice and encouraging Ae was also very admirable. TinxCan was also okay but there's really nothing I can say, they just pushed and pulled throughout the show and didn't even end up together. It got a little bit tiring at some points but it could be worse.
The downside of this drama are the almost unrelated sidepairings (for me, they had almost nothing to do with the plot) I watched bits but at some point just couldn't take it and ended up skipping. The mess that KengklaxTechno is just speechless. Also the TumxTar thing was too rushed, considering they were dealing with rape. Also, it was kinda weird that they were stepbrothers but anyway.
In conclusion this drama does have a lot of potential but it falls through towards the end. Nevertheless I really do recommend watching this, even if for just AexPete.
Was this review helpful to you?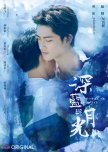 This review may contain spoilers
What I honestly liked about this drama was that the plot was somewhat logical. The acting was believable and there were no cringy or overly absurd parts which would have made me want to end the series (which is quite unusual for a BL series). The settings were also beautiful and there was a lot of thought on the color scheme which was a very nice thing. The emphasis on the color blue gave the whole series a sort of calming and relaxed aura and at the same time mirrored the characters' emotions.
This drama is quite different to the usual BL dramas as the main characters are actually unlikable. There is a lot of cheating and the "good" people forgiving them over and over again. The main couple are sort the antagonists of the story and you can't help but feel weird about them getting together at the end.
In conclusion, this drama is definitely something you should watch. The setting and how the story flows forward is definitely worth watching but just be prepared to be disappointed by the characters' actions.
Was this review helpful to you?