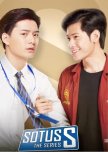 This review may contain spoilers
A lot has been already said about the second season and I agree with most of it. I loved the story and I can completely understand the fear of coming out at, especially at a workplace. I could feel Arthit's internal struggle, but at the same time, my heart bled for Kongpob. You can see the love in his eyes and I have no idea how no one noticed sooner (even in season 1). Singto brought so much warmth to his character and was an amazing contrast to Krist's portrayal of Arthit (which was also very well done).
The only issue I have with the story is that their relationship hasn't really progressed in the 2 years we haven't seen them. Arthit still shied away from any physical contact with Kongbop, even when they were alone at home. As mentioned, I understand his internal struggle, but 2 years is quite a long gestation period for their love to blossom, wouldn't you say? Cudos to Kongpob for having such perseverance.
Was this review helpful to you?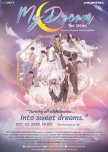 This review may contain spoilers
To keep it short, I loved the freshness the storyline offered, but felt it fell a bit short.
I would love if Runway handled the relationship with Tanai a bit better although you get a sense that he is the baby of the group, adding to his innocence and naiveness. Dream calling him "my little boy" adds to it (and making it a bit uncomfortable at times unless you imagine Runway being a reincarnation of Dreams lover, which for me then makes complete sense). I would love more details on Dream and how he came to be in Runway's dreams, so if there will be a second season as promised, I will watch it for sure.
What irks me is that it is not once said that Yim was raped. He was. Just implying it with a sad scene, in my book, is not enough. Also, why would he have a tender kiss with his rapist just because he said sorry? It makes absolutely no sense and it is completely wrong. Why that jerk didn't go to jail is beyond me. I don't like the message it portrays, that a young boy like that should do nothing if raped. I actually enjoy rough scenes, obsessiveness and light refusal before giving in (I know, I'm weird) - but only if the person giving in is actually enjoying it and it was just a struggle with oneself to see their true feelings. In no way is it ok if they really don't want it. Rape is never ok and the perpetrator should have been punished.
Was this review helpful to you?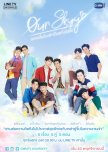 Our Skyy
0 people found this review helpful
This review may contain spoilers
I loved seeing my favorite BL couples, I think it's an amazing idea to bring them all together in one series - especially those who weren't main couples in their series. They definitely deserve it and I'm ecstatic to see them again.
However, even though I understand the concept of the series, I wish it offered more for each of the couples. Just the one episode per couple was not enough time to satisfy my desire to see their relationship develop as was "promised" in their respected prequels. In some cases, it looked like their relationship I've also felt the themes of the episodes sometimes don't really fit the couples (like body swapping as a continuation of what was supposed to be realistic series).
Ep. 5 was quite different though, as I've felt it was a realistic continuation of Arthit's and Kongpop's relationship. Arthit is by far my favorite tsundere uke ever <3
I'd be happy to see a second season.
Was this review helpful to you?