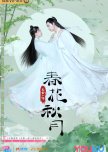 Positive:
+ Great chemistry between the couple
+Excellent acting from the two main leads
+Full of romantic moments
+Character development for our 2 lead roles but only after the drama progresses a lot
+At some point they tried to make it "serious " . Especially close the end
Negative:
- Very simple and weak plot (interesting only after episode 33)
-A lot of plot holes but the incredible romance that keeps you on-going and makes the drama deserve 8/10 !
***It took me 2-3 episodes to get hooked***
Was this review helpful to you?