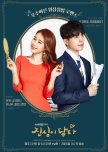 After Goblin, I was waiting for Lee Dong Wook and Yoo In-Na for a comeback drama. I was not entirely happy with their ending in Goblin, so I started to hope and pry they would comeback on-screen together. And finally my prayers was answered.
This drama was everything for me. it really warmed me up. It was sweet, cute, romantic just perfection.
Lee Dong Wook played his character to perfection as always. And Yoo In-Na was the perfect Oh Jim Shim / Yun Seo.
I felt when I was watching the drama, I did not feel it was a drama. It felt real to me. That is how perfect the drama and the characters were.
Was this review helpful to you?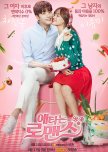 When you need a quick fix of romance, humor, cliche love plots. This drama is worth it. I can't tell you how many times I have watched this drama and it still makes me all giddy and giggly. The chemistry between the lead actors and amazing. They are so well versed into their character that you feel you are not really watching a drama at all. Their expression, their body language is so on point that its perfect.
It is the kind of drama when you feel you need a little perking up.
100% RECOMMENDED !!!!!!!
Was this review helpful to you?