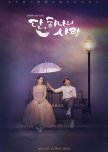 This is my first time to write a review on this website, I often only use it to view the ratings and reviews of other people but here I am writing my own entry. Angel's Last Mission: Love is such a refreshing drama, the plot is somehow creative in a way that it gets you hooked really easily. The casting is also brilliant, Shin Hye Sun does an amazing job at portraying her character, the other casts are also outstanding . I only plan to watch it once a day, but I binge watched every episode.
The genre sticks to what it is supposed to be and by that I mean you get an ounce of comedy drama and romance, it's really worth the watch, I can't even explain in words how perfect the soundtrack is, it really adds up flavor to the series. If you're hesitating on watching this, please don't, I've watched countless of dramas and I can say this is different from the stereotypical plot that dramas often have, it is somehow new with a minimal touch of cliche but it's really enjoyable and addictive. I can't wait for it to be finished, I really wish for an epic ending.
Was this review helpful to you?