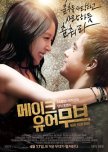 it was fun. but that's pretty much all it was. it was fun to watch but nothing more than that. the dance scenes were great. but everything else was mediocre. the story, the acting and the relationship was cheesy. it was your average dance movie actually. maybe a little below average. but since it is a dance movie and the dances were good i'll give it a 6/10
ps. even though i didn't really found her acting to be natural, boa really saved this movie for me with just existing. and dancing of course. might be the reason i gave a 6/10 cause let's be honest it's actually 5/10
it wouldn't really recommend it but if you have so much free time to kill (like me) and you're looking for something cheesy and fun to watch and you like dancing and boa, then give it a go.
Was this review helpful to you?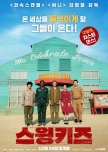 I will try to make this as spoiler free as possible and just talk about the way this movie made me feel.
I started this movie without knowing much about it, i only knew it was about tap dancing and park hye soo was acting in it and that was enough for me. The first hour or so made me feel like i was flying on top of the clouds. The movie has a was of making you feel so good, it sets the atmosphere so beautifully that you forget the surroundings the movie is set in and everything that could go wrong, you only focus on dancing and these people who do it freakishly well.
Then came the second half of the movie, the part you should have known was coming but you still get caught off guard because the mood so far has been always so happy. The second part is painfull to watch, you find yourself straining yourself and squeezing you fists tighter and tighter. But through all that the movie still gives you a glimpse of hope, hope that even in the midst of chaos there is still something that they can hold onto, dancing. But of course nothing is ever that easy and the movie reminds that to you like a heavy stone has been put on your heart.
The dancing sequenceses in this movie were beyond amazing both in the dance itself and the scene and it's meaining. The acting and the soundtrack were amazing. The relationship formed by these five entirely different indivicuals is so heartwarming but also heart-wrecnhing. There are still so much to talk about the topics the movie nails touching upon such as racism, idoelogy and much more but i think those are subjects people should experience watching this movie. In conclusion i definitly recommend this movie with all my heart and i think it is a movie that everyone should watch.
Was this review helpful to you?
i don't usually write reviews but i really wanted to write one on this because it's one of the weirdest dramas i've watched in a while and what i mean by weird is how it makes you feel.
first of all if you are thinking about watching this drama i recommend you skip the first 12 episodes and i promise you won't miss a thing.(unless you like monsta x then the first 12 episodes are just for you.) the first half of the drama seems like it was made only for monsta x. like they knew monsta x was gonna appear in the drama and decided to make the entire drama about that until the episode where they actually appear. i wouln't be so bothered if anything related to the actual plot happened but no, it doesn't. the main couple who the drama is supposed to be about has like 3 scenes and they're about 30 seconds long so if you start from episode 12 you really wouldn't miss anything.
with that being said the weird part comes and that is i actually enjoyed this drama. don't get me wrong the drama isn't good and that's why mydramalist should add a enjoyment rating cause as bad as it was, it was entertaining to watch. i only started this drama cause i love student/teacher relationship dramas but wasn't really satisfied with that aspect of it. i mean they were cute and i did enjoyed their scenes a lot but the romance starts way too late and the drama ends on where it should be at it's like 3th episode or something. so if you're thinking about watching this drama thinking it's gonna have a lot of angst and them trying to hide their relationship and kissing scenes and basically what most student/teacher dramas offer, you'll be better of skipping this one but if you're looking for some fluff and cute scenes then you might enjoy this one like i did.
this drama has a lot of cons but that really doesn't stop it from being enjoyable. i watched a lot of dramas where they were so good but plain boring and honestly i'd rather watch something that's cringy and fun than someting intellectual and boring and that's a pro it has. another pro is as cringy as the acting you really like almost every character on the drama which is a big pro cause a drama with likeable characters is a lot fun to watch. personally i really liked lin xua and really rooted for her and zhou yu teng. and even if i wasn't exactly pleased with what i got out of it, i still enjoyed every scene they had and that's really enough. though i wish it had a second season so that what i actually came to watch would happen but very well.
all and all it was a quite enjoyable drama and i'd recommend it if you have time to spare.
Was this review helpful to you?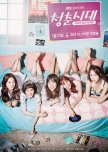 this was the first kdrama i've ever watched (or at least finished) and even after watching countless more dramas this one never ceased to be my favorite. i don't even know where to start because every aspect of this drama is just perfection but let's start with the characters.
without giving anything away this drama has a way of writing these characters that are so reletable but at the same time so painfully sad and complicated and confusing. and the more you think about why these characters do what they do you the more you understand why this drama is so brilliant. i usually don't like when aspects like mystery get into teenage dramas but this one made it blend in so well that i couldn't even complain, i just appreciated. it was so hard for me to pick a favorite character because they're all so beautifully written and acted but finally decided on yi na and jin myung(even tought i'm such a ji won) who i believe to be the most complicated characters.
as for the stroy it is one of those dramas where it looks very simple and light hearted but on the contrary it is very deep and philosophical. it's so well written and directed and acted. it has so many lines that i thought about for days (especially yi na's story about the smell) the realitonship between our main girls is just so beautifull and realistic. they fight and make up, they hate each other but love each other at the same time and no matter what they're always there for each other and i loved how that was the main theme of the show, friendship and not love.
and the ost fits the drama so perfectly with every song that plays at every scene. but my favorite and the most touching will always be butterfly. that ost still gives me the chills.
i'm sorry this review is a mess but i love this drama more than anything in life and just have so much feelings about it but i'm not very good with words, i'm good at feeling things and one think i can say for sure is this drama will make feel... a lot... i watched it 4 times and still cry like a little baby at some scenes and laugh my ass off at others. i recommend this drama to everyone who enjoys quailty.
Was this review helpful to you?