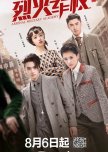 This review may contain spoilers
So this is not the most perfect plotted drama but, this is one of the most scripted Chinese drama. I have been amazed. There are a lot of good Chinese drama in 2019.
I know people can't escape the radar from Xu Kai. (I also was caught during Lanxi Palace) This is his second drama with Bai Lu. I am not complaining. I love the actress (She is my favorite actress in China now, since Untouchable Lovers). I don't usually watched the drama from that era. Because shooting is happening all the time without reason and I hate it.
But now that both Xukai and Bailu starred in the drama. I had to try for a few episodes. I was addicted since the first 5 eps. They are fun. The chemistry between the casts is amazing.
The first few episodes starts plotting, nothing major. But they show the chinese and the japanese relationship is starting to get intense and people are taking sides. Thank god, this is not forbidden romance like; each of heroine took different sides. So the main casts are students from the Academy. They trained. They get to know each other. They got on each other's nerves. Then they started to get punished together, went to missions together, suffer together and their bonds are getting stronger.
The 20-later episodes shows the evil ones. The ones from Japan. The plots are not perfect. Things happened so suddenly. I'm not sure I am convinced how a lot of people die or a lot of people escape. But it's okay. Miracles happened in drama right? But don't get me wrong. Storyline and plots are different and, I like the storyline. It's light, nothing heavy. No one is starved. No one is tortured. But some important casts die (I cannot tell who, watch to find out)
The deaths of characters made me tear-up a little, and mad a little. So, this drama would make a nice recommendation for someone who is interested in "enemies-to-lover" "girl-pretend-boy" "girl-in-boys-school" "slow-burn-romance" "romance-with-action"
So, Check the drama out!
Was this review helpful to you?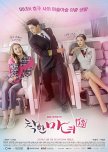 Sometimes you just need a typical Korean drama
This drama has twins.
Older one is nice. Younger is evil. It's just another Kdrama but, how could just another drama can make it so interesting? I'm sure this drama is not for international purpose, but for domestic.
Korean just love drama like this. (well, me too.)
I give it a high rating because of my emotions. This drama make me got involved with the characters.
K-drama always have a good person and a bad person. They are bad just because they are. K-drama are always trying to tell you something. A direct message. It is so typical but I love it.
Give it a try, you will get addicted to how absurd the characters are. lol
Was this review helpful to you?