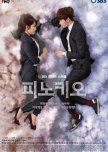 this drama is for you either to love it or to hate it no in between.
what i love most about this drama is the dialogue ,
the main story line which will make you realize a lot of things about manipulating the media for political reasons .
the perfect acting of the all cast all the support roles seems perfect the main reason i rate acting 9/10 because the main role actors acting especially shin hye (she is one of my fav actresses but she don't act really well) her crying scenes looked awkward in my eyes sometimes overacting .
Even though
I highly recommended watching this drama
Was this review helpful to you?