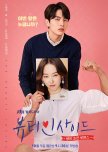 This drama now enters to my list of my all time fave. It never gets boring, it makes you laugh & smile ear to ear but it also makes you cry (I cried a lot, lol). The chemistry of both couples is on fire. I usually never like the main couple in dramas because they're always super toxic & boring, but this one got me from the very beginning they're different & the secondary couple were the cutest!! my cheeks still hurt from so much smiling with those two.
This is not your typical rom-com, yes of course it's funny but it's also deep, meaningful. It's about accepting & loving yourself & by doing that, you love & accept everyone else with all the bad & the good, with no prejudice. No matter your gender or physical appearance, love is love.
The women of this drama were so smart, powerful, gorgeous & very confident, INTELLECTUALS. Also +100 stars to this drama because the men didn't have that disgusting fragile toxic masculinity that you often watch in korean dramas. THIS IS A MUST-WATCH. The only thing i regret is that I didn't watch it sooner.
Was this review helpful to you?