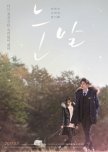 This review may contain spoilers
I need to shout it out. I've been in pain for the past week because of this movie. Even though I didn't watch the whole movie and understand it completely, it was enough to bring me pain into my heart because of the unhappy ending and all the bad things that happened in this movie. I cried too much, I almost vomited, I released out my anger by throwing stuff around my room, and I'm still in pain today. Sometimes I feel like nobody understands me because I didn't watch the whole movie and I don't see it the way other people do. I have been suffering so much, I just lost hope in life like I don't want to live anymore.
Was this review helpful to you?