The website is currently undergoing maintenance. Sorry for the inconvenience.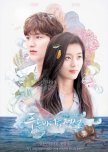 I don't usually write reviews but I felt the urge to do so in this case.
This drama is something you don't see everyday. It is just so well done in my oppinion. Already rewatched all the available episodes thirce!
The actors, the music, the atmosphere, everything is perfect.
It also has so many life lessons, and really makes you think about life itself. I recommend to anyone to watch this, you will not regret it. The comedy in this drama is something I rarely met. I actually laughed till I cried.
10/10 this is a must watch!
Also if you enjoy fantasy/mystery/sci fi and comedy this is just for you. It resembles somehow my love from another star, given the fact that we have the same actress in both and the story has the same feeling to it.
Was this review helpful to you?