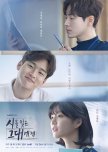 Likes:
-Woo Bo Young was such a great lead! She was a ray of sunshine and such a genuine person without being ditsy! She still had flaws though, but I think those flaws made me like her even more. She's what really made me stick with the show. I rooted for her the entire time!
-The whole cast of characters–even the meaner ones–were really fun. It was really entertaining to watch all their interactions and antics. I also liked how they all had their own things going on in their lives.
-The setting was unique in the sense that I don't think there's been a kdrama about physical therapists before! It was really fun to get a glimpse into that world.
-The use of poetry was also super unique and creative and it was incorporated in the drama really well.
Dislikes:
-There didn't seem to be a plot to me. Besides the romance, I didn't really understand what direction this show was trying to go.
-Going off of that, I think the show started off really great but then started focusing on the wrong things which ended up being its downfall. For example, the love triangle felt very unnecessary and didn't really do anything for the plot or for the characters involved in it. Another example is that the show spent so much time developing Minho and Bo Young's relationship and not enough on Bo Young's relationship with Dr. Ye which left me feeling confused on who the show was trying to make me root for.
-The show should have focused on all the characters and their individual problems. It did at first, which was why I was so hooked at the beginning, but then it fizzled out. Characters' problems were pushed under the rug halfway through and virtually forgotten about. Because of that, the majority of the characters end up not really doing anything to add to the bigger picture of the show, and they felt like they were just there to fill up time. What I wanted to see: Minho dealing with his family issues and the fact that they forced him into a career path that he isn't interested in; Nam Woo working his ass so he can get a job; Yoon Joo trying to figure out how to deal with her loneliness and learning how to be vulnerable with others, etc.
-Dr Ye, despite being one of the leads, was one of the most underdeveloped characters of the entire cast! I still don't really understand his character or what drives him. Who is he outside of work? I wanted to know more about his break up and see him trying to heal more from it. I liked his character but I needed to know more in order to be fully invested in him. The show did give him some more character development in the last two episodes, but honestly, by then it was too late since everything was wrapping up.
Overall, this show was entertaining to watch, but the lack of character development for the majority of the characters and the lack of plot left me feeling majorly dissatisfied.
Was this review helpful to you?