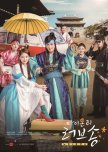 Let me first start by saying that the casting director did a great job casting Cnblue jonghyun and seungyeon a previous old WGM couple as leads in this drama. No skinship scene looked forced and their acting was really good. I wouldn't really say it was the best drama out there because some parts of the story were a bit questionable. But nonetheless it really stook to being a romantic historical drama.
So I definitely recommend this and for you guys give this drama a try.
Was this review helpful to you?