If you're still experiencing technical difficulties, please report it
here
.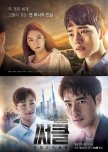 Circle
8 people found this review helpful
Although the show lacks computer graphics that are typical of sci-fi shows (maybe due to budget constraints for TV?) this drama continues to hold its ground with the solid storyline and impressive direction and acting from a pool of very very brilliant actors. Jingoo is definitely well beyond his years as an actor, showing intensity and maturity. Kim Kang Woo is as usual, precise and forceful. Gong Seung-Yeon is not only beautiful, but she also is strong as an actress and quite effective in playing 3 personas of Byul/Jung Yeon/Bluebird. All the rest of the actors are equally brilliant and such a delight to watch. Casting is PERFECT! This drama is gripping and keeps one on his feet. As it is, it is already a masterpiece; how much better it could be when it gets more CGI? Daebak!
Was this review helpful to you?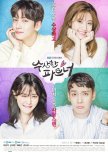 His royal hotness, Ji Chang Wook, comes off strong and effective Atty. No Ji Wook, as expected of his range as an actor. He has the ever familiar gestures and stares that he has used to charm his love interests, but it works. Maybe I have been charmed by his bright smile and finely chiseled face, but he is one of the most formidable actors in K-dramaland no doubt.
Support characters, Atty. Byun and Atty. Ji Eun-Hyuk, are also effective and lovable. Nara's Cha Yoo Jung leaves a remarkable performance, as well.
The female lead is a big disappointment, lacking maturity as an actress, and lacks more depth as a character; she is supposed to be a black belt in Judo(?) and quite a strong/tough woman and yet she comes off weak and easily shaken.
It is almost painful to watch her acting opposite Ji Chang Wook. Nam Ji-Hyun's take on the character Eun-Bonghee is quite poor. She uses the same character reference for the provincial girl she portrayed in Shopping King Louie; which worked then for that show. Sadly, the same portrayal for a different and more empowered character in Suspicious Partner is flat out failure. She acts all cute with a cutesy voice that is not typical of a supposed confident lawyer / (acquitted) murder-suspect / mature lady, which is disturbing. Could she possibly be a miscast?
Can the writer do something to make character Atty. Eun Bonghee, smarter and more confident please? She is clearly surrounded by danger and yet she goes out alone at night, etc? Gosh, please help this character, writer-nim!
Was this review helpful to you?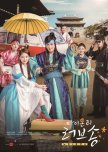 No doubt, this show further proves that Lee Jong Hyun and Gong Seung Yeon's chemistry is really MAGICAL! Although JH has been thought to be better off as an idol and a musician/singer than an actor, his acting opposite someone he truly/obviously adores in real life, apparently helped in overcoming his awkwardness as an actor. The lovely SY has been showing steady progress and strong skills in acting since she debuted, so she pulled off the spoiled, potty-mouthed, top-star and lovable character! Haha! She was able to balance off that sexy and elegant vis-a-vis serious and funny Soojung whom charismatic Ondal and narcissistic Gen. Ko Ilyong would fall for. Joo-hyung Park's skilled portrayal of the narcissistic villain is spot on, and truly hilarious, which makes the show more enjoyable to watch. Lee Jaejin's Samyong is also memorable and endearing; Didn't know Jaejin could act so well! Bravo to all the actors!
Many scenes appeared to be referenced from JH and SY's stint in We Got Married, which worked nonetheless, especially since this drama undoubtedly has a built-in fan-base; And many would be more than satisfied to see the long-awaited onscreen reunion that comes with bonus intimate scenes between the two main leads. Since this show is a web-drama and expects foreign viewership, the usually censored lines/actions and kissing scenes in Korean TV dramas were done away with. Those kissing scenes, by the way, were done confidently with passion and intensity. It was indeed a great move to cast JH and SY to be the leads in this drama!
There was some trouble with continuity of scenes and the storyline. The show also obviously lacked budget/the luster of the usual cast-of-a-thousand-extras/actors saeguk dramas; But when you are too busy swooning over the visuals and sweetness of the 2 main characters, all is glossed over with the taste of honey that overflows from every interaction of Soojong and Ondal. The director and production team did a good job anyhow, with the resources made available for them. The script obviously invested more on the main leads and it worked just fine.
If only for the contagious sweetness of the 2 main leads/characters, together with the magic that they create together that lights up the screen, this drama is quite a RECHARGING experience that is worth to be rewatched over and over. A Season 2 would be even better!
Was this review helpful to you?