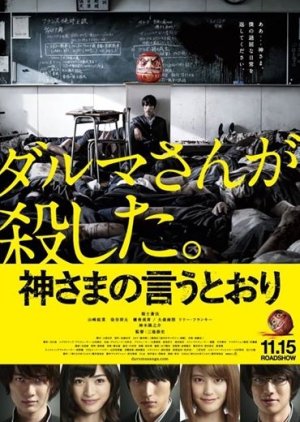 This review may contain spoilers
If you are not a fan of Takashi Miike whose reputation is notorious (Crows Zero, Ichii the Killer, Audition and One Missed Call are just one of his most famous films and they are quite mild), then you should stay away from this film because it is simply not for everyone. Just to make everything clear, I am not a fan of gore but I am also not the sensitive type. This film is a mixture of an over the top comedy and suspense. But there is also a lot of blood spurting from everyone and everything, so keep that in mind before deciding to watch the film. The story is quite interesting and you will either keep nervously looking away or you won't be able to take your eyes off the screen. Besides the apparent craziness and 'trying to survive' chaos going around, there is actually a tiny amount of romance and friendship included, but don't set your hopes high, because this is a suspense and action film, not the romantic one. The most prevalent theme is the one of survival, and that is why this film reminds me of Battle Royale. What happens when you know that the end is close, would you sacrifice the others in order to save yourself? Is there a limit to cruelty and fear in humans when faced to death and hopelessness? There are actually some really interesting themes that can be analyzed throughout this film. When it comes to the cast, I am quite used to the Japanese extraordinary expressions so I did not find their acting cheesy and the actors were great. I would not recommend this for rewatching, simply because you won't feel the same after the first time and that means that you should prepare for some huge plot twists. The music is good too. . . . . * * * BEWARE NOW OF SOME SPOILERS * * * . . . Still reading? I warned you. Curiosity killed the cat. . . . . I lied. I won't tell about the end, which I really liked :p But I will share some thoughts. The survival game is apparently created by Kamisama (God) and his subordinates. And there are five parts: 1) Daruma - a symbol of perseverance and good luck, but now turns into a deadly Darumasan ga Koronda (Red light/Green light game). 2) Maneki Neko - a lucky charm, talisman. 3) Kokeshi - Japanese traditional dolls, tokens of friendship. 4) Shirou Kuma turns into an evil spirit from a Japanese legend. 5) Matryoshka - a Russian doll, the only element that is not part of Japanese tradition. Each game tests different skills, but I find them fascinating because of their origin. Anyway, I liked the film and all its craziness, go and watch it!
Was this review helpful to you?