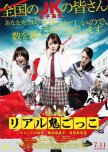 Honestly, this film is very deep.
I do believe that it can be interpreted in many ways but I think the way it was intended to be interpreted was as a story depicting how young girls are "used" (I do not mean to offend in any way, this is just how I interpreted the film, sorry!). To quote Mitsuko from the end,"stop using us like toys" is what she says, and very much the message that I think was trying to be portrayed.
The story was very.. wild. lol. Jokes aside, it really drew me in, although it did get a little confusing at times. The beginning was very "wtf is going on" but I think the film definitely improves as it progresses, so keep watching!!
Excellent cast in this film, the main 3 girls and Aki were just brilliant. Aki was a very believable character, probably the most believable of all. She really brought a sense of realism into the film, and whenever she was calming Mitsuko, it felt like she was bringing me back to earth too. The side characters (ily Sur!!) kept me interested and the antagonists were.. questionable, at most.. but I suppose they were doing their job if it was keeping the audience's focus on the main characters.
The music was tense when it needed to be, and suited the mood pretty much all the time. I think the music definitely helped induce my hysterical sobbing halfway through the film (pillow fight by the lake T-T ) Others might notice that at the very start of the film, the music is the same as The Walking Dead! Honestly, I think it fits! The end credits are worryingly soothing but OH BOY that didn't stop my crying.
This film left me doing ugly hysterical sobbing.. yet I would still choose to watch it again (and I've seen it twice now) although I'm not sure if everyone is the same as me because this film was just very "up my alley"!
I'm no film expert, this is just my opinion. But if you choose to watch the film, I hope you enjoyed it as much as I did!!
Was this review helpful to you?