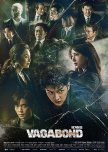 Vagabond
0 people found this review helpful
Where should I start?!
Okay before starting this show I had mixed feelings about it but as the story progressed with each episode I was hooked to this show.
The best part it's not just typical Korean Drama; it has all the right elements Story, Cast, Plot, Action, Music.. EVERYTHING is so ON POINT.
Lee Sueng Gi as Dal-Geon and Suzy as Hae-Ri are awesome and I'm in love with them after this show. A phenomenal job done by every actor of this show. With a good amount of humor at the right time and place. Action sequences and cinematography was so top notch that it kept me in a nail biting position throughout.
I really hope we get more shows like this in the future because it just increased the standards much higher.
Lastly, the way they wrapped things up IS SO GOOD everything just fell in place. I'm impressed and so satisfied with the way things ended and I really hope they make Season 2 of this show. WE NEED IT!
P.S The song 'Open Fire' has to be my favorite.
Was this review helpful to you?