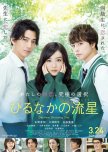 This review may contain spoilers
Minor spoilers ahead. The Hirunaka no Ryuusei manga has a special place in my heart because of its diverse cast and likeable characters. When I saw that Yamamori Mika, mangaka of HnR, had approved of the movie, I had high hopes thinking this would be a good live-action adaptation. To cut it to you short, it's not. If I were to judge this as a stand-alone film, it would still be bad. The pacing was super rushed, as if the director only took the important plot points in the 70-something chapter manga and squeeze them in a 2 hour film. There's no character development in this film, they're just there, doing things as told. Some other minor plot points were either not included in this film, or completely ignored. For example, Togyuu Minagawa was such a crucial supporting character in order for Yuyuka to move on from Mamura. However, he wasn't even included in this film and that made Yuyuka seem as if she was a character created just for plot/dramatic purposes. Some other plot points missed were Shishio and Suzume's aquarium date, The school culture festival, Romeo and Juliet play, Suzume stumbling across Mamura's family, Shishio's EX-GIRLFRIEND (another character completely disregarded), Shishio tutoring Suzume, etc.
Without these plot points, if I had not read the manga, I wouldn't understand how Mamura fell for Suzume, why was Shishio so indecisive, why did Suzume reach her conclusion at the end of the movie. This was not well executed and made the story in the film seem shallow.
Casting wise, Mei Nagano was a great choice for Suzume, She captured her awkwardness well and did not disregard Suzume's inner dialogue. Miura Shohei was also a well-casted choice for Shishio. The way he said "chun-chun" was cute. Mamura, however, Alan Shirahama did not do him justice. One part of Mamura's character in the manga was that he was very slow in opening up to Suzume. They rushed that in the movie. He was also forcing himself on Suzume a bit too aggressively in the movie. For example, Mamura kissing Suzume on the cheek right after she waved to Shishio was very uncalled for. That's not how it was done in the manga and made live-action Mamura unlikeable for me.
Besides all the negatives in this film, the director did a great job with the sports festival scene, the hospital scene, and the execution of Suzume's final decision at the end. I'm really glad it was faithful to the end of the manga, but this adaptation would have been much better if it had been a drama series (and if they replaced Shirahama with Sakaguchi Kentaro, but that's a personal opinion ;-)
Was this review helpful to you?