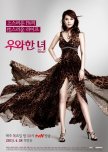 I just finished the drama and WOW is it really different from your typical Korean drama.
The drama did start off hilarious; I found myself enjoying it right away with all the crazy humor thrown into this drama (some not so appropriate for the younger audience either). I also liked how this story had a sort of moral to tell the audience-that you shouldn't judge by appearances or to be yourself and not drown in a never ending sea of lies-and it wasn't portrayed in a cliche, cheesy way that makes you want to roll your eyes constantly. It did move kind of fast since it is only 12 episodes but at the same time, it didn't feel rushed.
One thing that I haven't seen in a while in dramas are surprises. Everything started to feel predictable, but this drama was different. It was so well planned out, I didn't even see it coming until it actually happened.
The cast was amazing too, acting and all. The director made excellent choices to choose these people for their roles.
I didn't realize it until I had to rate it, but I realized there was no actual singing in the soundtrack of the drama (either that or I somehow missed it). Depending on preference, this can be good or bad. I personally prefer some catchy song that goes on every time a cute scene shows up or when a certain character enters the scene, but that's just me. Having only instrumental music could also enable the audience to focus more on what's going on than the song that's playing.
Overall, I loved the drama. The plot was very unexpected and meaningful. It was also very funny, and also very sad. I don't know if I would watch it again, just because there are surprising parts and well, they can't be surprising a second time can they?
Was this review helpful to you?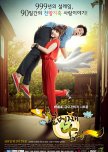 When I first saw the trailer for this drama, I felt a little skeptical. Aside from it's gumiho plot, I thought this drama would be one of those boring, cheesy dramas. I had no idea I would like it so much! I initially wanted to watch it just for the singers that were in it (especially Woohyun! and his romance with Hyomin!) and for the fact that it was short.
The story was fantastic! No plot holes, and the pace was perfect! The drama explained MiJin's situation in excellent detail and the director went as far as to make us, the audience, understand her a lot better and even pity her. The pace of the drama was neither too fast or too slow, which is what I love most! I loved the humor, and the romance was just right. The director became unpredictable throughout the movie as well; I was surprised at some events. Even though most of it was portrayed as a comedy, I also found myself on the verge of tears of sadness as well!
The cast was just amazing. The women were beautiful, and the men looked gorgeous as well (especially the lead male, Woohyun, and Sunggyu!!!) Most of them had great acting skills (I think the newbies could do better with more practice); MiJin's crying was amazing, I always find actors and actresses amazing when they can cry on cue because not many can do that! They either use eye drops or fake cry.
I loved the music! I could recognize songs from B1A4 and Infinite too! I loved being able to sing along to them! They definitely fit the mood of the scenes in the drama! One thing I'm baffled about during the drama, however, is that one scene where Woohyun "sings." I know he can clearly sing (since he's a SINGER) but the producers decided to play the original back track instead...anyway...
I would definitely rewatch this! It was so fun, I loved it all the way! (I don't usually rate things 10 out of 10 so 9 is pretty high!)
Was this review helpful to you?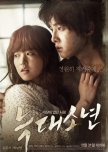 This was one of THE BEST movies I watched! It started off kind of boring I have to admit, but it got more interesting and suspenseful later on in the movie. I definitely watched this because of Song Joong Ki and boy does he not disappoint in his work! I think he has become my favorite actor now, and Park Bo Young, wow is she amazing! Not only is her voice beautiful but you can tell she puts her all in her work, she made me get so emotional during the movie, and I believe only good actors and actresses can do that. The only reason I didn't give this movie a 10 is because the way they portrayed the "werewolf boy" was more victim-like rather than predator-like, I would've liked it the other way to give him more of that mysterious aura. I loved the plot line! Even though it was only the length of an average movie, its storyline could definitely be compared to a drama. What's even better is the fact that the movie didn't seemed rushed at all, and I love that. Everything was beautiful, I went through every emotion possible during the movie. I would most definitely recommend this movie!
Was this review helpful to you?