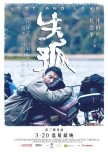 Story:
If you're into tear-jerkers this one's for you.
I pretty much spent the whole movie bawling my eyes out. Tears of pain, joy, sadness, desperation, laughing.. it has everything.
If you're more the romantic-comedy-type..... well obviously this is no lovestory in the romantic sense. But the title "Lost and Love" is certainly earned.
The movie deals with the sadly very real problem of child-trafficking in China, but it doesn't focus so much on the actual abduction, but more on the aftermath.
The main plot points are the love of parents endlessly searching for their lost children, the love of adoptive-parents terrified of loosing theirs and the children's love for the parents they never knew and the parents who raised them.
But the "bromance" (or in this case more like a "father-son-mace") between the man looking for his abducted son and the boy looking for his parents is what really drives this movies in my opinion.
Acting/Cast:
Well, Tony Lau - need I say more? There is a reason why he's considered one of the TOP Chinese actors and he does not fail to deliver in this movie either. He portrays the father's pain, desperation and uncertainty perfectly. The character is very relateable and by the end of the movie I felt like I actually know this man.
When it comes to Jing Bo Ran I have to admit I'm probably a little biased... I mean come one, the man's eye candy (and may or may not have been the initial reason I chose to watch this movie) - so don't judge me. I've watched a few of his movies and one drama and must say that I liked his performance in this movie more than most others. Obviously his acting is a little overshadowed by the one and only Andy Lau, but that's not really a fair fight. All in all I can say that I was definitely impressed.
Music:
I'm not much of a soundtrack-person. To me personally it wasn't very memorable, but then I have always felt like that's not actually it's purpose. It sets the right mood and doesn't distract from the story... so for me the soundtrack did what it was supposed to do - no more, no less.
Rewatch Value:
Pretty much the same as with the soundtrack... I personally don't really rewatch movies or dramas.... once I know the story the appeal for me is kind of gone, there is no more excitement to find out how the story goes on and a captivating story to me is what makes a good movie a good movie. So I can't really comment on this topic.
Overall I can say that I loved this movie and will happily recommend it.
Was this review helpful to you?