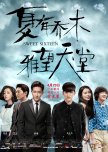 So I would give it a perfect 10/10 but for me the ending was too upsetting. I wish it wasn't. For those who aren't looking for your stereotypical happy ending (I mean idk, maybe some people can find it somewhat happy... kinda?) then they'd really like the ending.
Otherwise all I got to say was acting was ON POINT. Great. I'm so happy because Kris kinda disappointed me a bit in his Never Gone role so I was a bit nervous but it's obvious that dramatic characters suit him amazingly well.
Hangeng's characters is basically probably every girl's dreamy boy next door type and the female actress was stunning as well.
Honestly, acting just.. amazing. From everyone.
Story was amazing as well, just not my kind of ending hahah. But generally. Just a great movie. But prepare yourself for some emotional turmoil because "sweet" sixteen is far from being sweet and the whole movie had me going up and down and up and down the entire film. Unpredictable, but luckily, the mood change was not confusing at all. Very clean and clear story telling, which is always great for a movie.
In general, I am already putting it on my rewatch list. I personally was not disappointed at all. For those that read the book and then watched the movie, sorry to burst a bubble but movies never live up to their books. Trust me. So don't make an unfair comparison. As someone who looks at it subjectively because I didn't read the book before, as a movie, this is amazing and definitely worth a watch!
Was this review helpful to you?