If you're still experiencing technical difficulties, please report it
here
.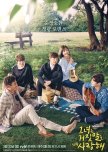 firstly, this drama moves slower than others. It's not rushed though on the other hand it's not dead.
I appreciate that in a sense, sometimes the story of dramas moves too fast For you to take it all in - so it's a welcome change.
If you dislike drama for the sake of drama and tumultuous relationships then you are in for a pleasant ride. What I liked most about this drama is the fact the main relationship was steady, cute, not controlling and honest. i could have watched them for 16 more episodes as they grew musically together.
something I would have liked to see was a change up on the song performances. I know that writing a song is a difficult process, but having heard them play and sing the same song the entire time made me slightly bored.  Joy's voice was amazing though.
Was this review helpful to you?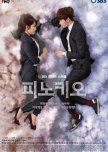 Story: 10/10
The main premise of this drama is that Choi In Ha can not say anything that she believes or feels is a lie. This can obviously become hilarious or scary. The main male character Dal Po (formerly Ki Ha Myung) went through a horrible experience as a child and has left him with a personal vendetta against the media. The reasoning's behind his attitude and feelings was described quite clearly, and you instantly understand him as a person.
Choi In Ha is very innocent in the ways to the world, though has also been through family troubles, however she is ignorant to the truth (ironically). She grows as a person and as a reporter together with Dal Po.
Together the two unravel lies and cover ups, pain and hard decisions. I like how the story progresses and I like how not everything that you see in the media is the truth. The message of that seems quite clear and is one that some people often forget.
Acting: 10/10
Sometimes I feel like I wouldn't know bad acting if it bit me in the butt, but I can't really fault the actors here. I hated some and loved other, felt bad and felt sorry. That exactly what I want from them.
Music: 8/10
The music doesn't leach a huge impact on you but that's not to say it's bad. I think for such a busy story anything to extreme or powerful may have overpowered it somewhat. Notible songs include Roy Kim's "Pinnochio" and Zion. T's "Kiss Me"
Rewatch Value: 9/10
I would rewatch it because I liked the relationship between Choi In Ha and Dal Po + the funny exchanges between them and other aspiring reporters.
Overall: 9/10
Was this review helpful to you?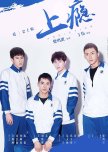 Firstly the original author has done a great job in producing these characters. While they do border on the traditional "Forward and unrelenting" and the "reluctant and angry" couple featured in BL series, the underlying story of their relationship and how it develops is something I personally have not read or watched before.
Story: I believe it develops nicely although due to the censorship the progression of time does seem off, however that is not really something that can be helped all of the time. If there was a uncut version released I believe the story progression and development could very well reach near perfect.
Acting: I believe the two main actors play their parts well. They have not stepped back from the characters personality, specifically that the feelings develop nicely and do not get turned on like a switch out of the blue.
Music: The opening song is very nice, during the show the music is not overpowering.
Rewatch Value: I think you could very easily watch this over and over again because you are made to feel sad, empathetic, happy, embarrassed and shocked across all of the episodes. I found myself laughing at the characters and sometimes that is difficult to give to your audience.
Was this review helpful to you?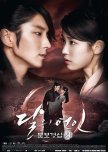 Story: 9/10
So the story was nearly a 10, however, there could have been more explanation on the "How" and "Why" Go Ha Jin ended up as Hae Soo and what the eclipse had to do with the whole situation (Which would also clear up the ending somewhat). I personally didn't mind the ending, if only because it meant hope. I think it made real Hae Soo's main quest of "changing history"
I know some people stop liking a drama if they don't understand or want answers, but I like to fully put myself in to what i'm watching - if I enjoy it until the end (leaving aside my complaints) then it did a good job, but if you can't get past the inconsistency then it did a bad job. This did a good job at keeping me captivated and to me that means the Drama served its purpose to entertain. Even if you find holes in the story its told well enough for you to keep going. I've seen that people don't like the relationship progression but to me its more real. The feelings are raw and confusing. They aren't black and white. The whole drama and its relationships are not fairy-tail ones - they hurt and they try to persevere.
Acting: 10
I've now seen many dramas, some cringy and some not. I think each cast member brought a good personality to the characters. I cared about some and hated others. That is all you can hope for, if you dont feel anything for the character at all I think the acting wasn't worth it. I ended up crying a lot.
Music: 9
There wasn't any one particular song that stood out to me, the music was good but nothing that made me go "Wow I want to download this". Perhaps I was focused too much on watching that I wasn't hearing it. Although perhaps thats a good thing, you can't have music too overpowering for a story like this - and sometimes the way that the drama repeats the same powerful song every episode annoys me.
Rewatch: 10
I would watch this again to focus on details I may have missed the first time. Side characters, subtle hints or actions, try to answer some questions I asked by taking what I know from the first watch and fill in the pieces.
Worth the watch, definitely, It's very emotional and raw. The music doesn't overpower the story and distract you from the very intense and fast paced lives of Hae Soo and the princes.
Was this review helpful to you?